Basement Waterproofing Contractors in Cleveland & Nearby in Ohio
Have you noticed signs of water damage in your basement? Whether you're buying or selling a home or just want to fix the home you love, Ohio Basement Systems has the solution. We solve all kinds of wet basement problems, including leaks, humidity and musty smells, giving you a basement that's dry and healthy.
If you've experienced leaking walls or seepage through the floors or cracks in your home's foundation, you need a system that's going to keep your basement dry all the time. As the local waterproofing experts in Greater Cleveland, we have the right solutions for your needs. Call us today at 1-855-833-9801 or click below to get started with a free estimate!
---
Before and After
Before

After

Our Customer had a broken downspout system underground. Our team fixed the problem by reconnecting the downspout and by installing IceGuard to prevent freezing of the lines.

Before

After

Our patented WaterGuard System was installed to prevent water invasion inside of this basement. Water will now channel through the system and navigate it's way to the SuperSump which then pumps the water out and away from the home.

Before

After

This homeowner had an issue with water coming into his basement which then ended up getting into his bathroom. We installed our WaterGuard system to help redirect any water in the walls to the sump pump.

Before

After

Our team installed our patented WaterGuard System equipped with a SuperSump sump pump. This system prevents water infiltration and pumps water out and away from the home.

Before

After

The water was coming up through the floor in the basement, but thanks to our guys there are no more worries!

Before

After

This 55-year-old house in Warren had cracks in the walls and was leaking water. The owner called in our consultant, Troy, for a free estimate. He recommended our WaterGuard System, a Sanidry, A TripleSafe Sump Pump, BrightWall and ZenWall to remedy the problem.

Before

After

After seeing us at a local home show this year, we came out to inspect and take care of the water and moisture issues in the basement.

Before

After

We installed our WaterGuard drainage to the TripleSafe backup sump pump system.

Before

After

We installed our SuperSump systems with WaterGuard to keep the basement dry. In the before photo the customer just had a drain going to a sump hole.

Before

After

These homeowners in Canton had a crawl space and basement that was severely damaged by water. Our crew installed our WaterGuard system, our sump pump system and added new concrete to the floor. Now these customers can enjoy a more comfortable home that is water damage free.

Before

After

We added our sump pump system to keep water out of this homeowner's pantry. We also installed our bright wall to keep moisture out as well as brighten the pantry up.

Before

After

This homeowner was experiencing water puddling on the outside of the home due to downspouts not working correctly. We installed our ice guard system to extend the downspouts and pull the water from coming into the home.

Before

After

Water was seeping into this Ravenna home's basement through the cellar door. The homeowner called Troy for a free estimate. Our crews installed our WaterGuard Drainage System, WaterGuard Port, Trench Drain, Sump Pump, and Ultra Sump to remedy the problem.

Before

After

This Ravenna home, built in 2008, had water seeping in the basement in two sections. The owner called Ohio Basement Systems for a free estimate. We installed our WaterGuard system to seal up these problem areas.

Before

After

We found this basement stained, musty and wet. We fixed the water problem and added our triple safe pump. The Triple Safe Sump pump has 3 pumps in 1 with a battery back up. To brighten the stained walls, we also added our vapor barrier, BrightWall.
---
Innovative, proven basement waterproofing technology
At Ohio Basement Systems, we offer a complete waterproofing system to deliver the ultimate dry basement solution. Here's how it works: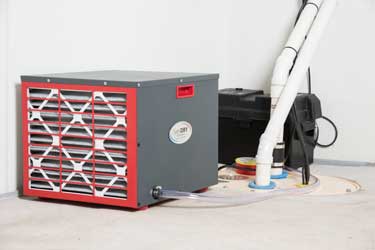 The ultimate dry basement system: WaterGuard drainage system, TripleSafe sump pump and SaniDry Sedona dehumiifier.
The WaterGuard® perimeter drainage system is a non-clogging alternative to a traditional French drain system, which sits in the soil and often clogs. WaterGuard® perimeter works together with the TripleSafe™ sump pump to quickly and effectively remove water that has made its way inside your home. The result is a basement that's clean and dry, so you can use the space for storage, recreational purposes or to finish for additional living space.
To keep your home dry all the time, we recommend adding an ENERGY STAR rated, high-performance SaniDry™ dehumidifier and air filtration system. Our SaniDry Sedona™ and XP systems lower the humidity in your basement to reduce allergens and mold and eliminate dampness and musty odors.
More than 500,000 basements kept dry with our system
As a leader in basement water control technology, we've developed drainage systems, sump pumps and a full lineup of other basement repair products that have been installed in homes all across the United States and Canada by local waterproofers.
Why more homeowners choose Ohio Basement Systems:
Professional, local waterproofing service since 1999
Award-winning, patented, proven products
Certified and trained installers and customer service specialists
Lifetime transferable product warranties
Ohio Basement Systems is a full service foundation repair and waterproofing company. We offer all methods available on the market today, including exterior and/or interior solutions!
The first step to eliminating these problems is to determine the cause(s), and customize a system that will provide you the best solution at the best price! Most contractors will attempt to fit "their" solution to whatever problem they may find. Ohio Basement Systems offers all solutions, so our experts will look at all options, and together, we will determine what is best to accomplish your goals.
Our exclusive waterproofing products range from drainage, to downspouts, to exterior wall sealant & insulation, to sump systems of all kinds, to basement air systems, to wall & floor covering, and much, much more! Call for your free inspection, design, and estimate today!
Customer Reviews
"very quick and neat work. Just what we were hoping for in the basement."

By Robert C.
New Middleton, OH

"Great job on keeping me informed on process and answering all my questions..."

By Kenneth M.
North Lima, OH

"Excellent work...great follow through"

By Gary F.
Youngstown, OH

"I would recommend this company to anyone needing a dry basement."

By Denise T.
Youngstown, OH

"I only gave all 4's because, no one is perfect."

By Monica H.
Boardman, OH

"I really appreciated that Patrick and his crew were very respectful of my..."

"Patrick and his crew were very respectful of our home and property. They..."

"VERY COURTEOUS AND CLEANED UP WELL"

By Willie M.
Leesville, OH

"We didn't know what to expect about the process but, we were kept informed..."

By Jaime & Dan C
McDonald, OH

"Very satisfied with the professionalism and quality of the work."

"Good People- Excellent workmanship. Great Job."

"Polite, upfront, honest. They redid some of the items I asked them to do."

By Mary Ann M.
Warren, OH

"Crew was excellent, did everything they said they were going to do and..."

By Wayne I.
Louisville, OH

"Everything we asked was answered and everyone we talked to was very..."

"The life time warranty and transfer over if we ever sell home. Also since..."

"The installation crew created a very high level of satisfaction. That..."

By AnnMarie M.
Leavittsburg, OH

"We felt everyone from the consultants to the crew who fixed the basement..."

"I WAS TIRED OF A WET BASEMENT AND I BELIEVE I MADE A GOOD CALL."

"Fast, friendly, explained everything left me with no questions. Job came..."

"Very friendly and professional. Iwould recommend them to anyone. Andy was..."

"Very nice people to work with, the onsite crew was excellent!!! Highly..."

"Scott and his crew were very polite and did a great job. Scott is very..."

By Julianna E.
Canton, OH

"Hugo and team preformed their job in a very professional manner and..."

"Very good working crew. job completed on time"

"Friendly service, loved how the consultant was very clear about what we..."

By Taras P.
Beach City, OH

"From initial phone call, to inspection and consultation, to an experienced..."

By Billy W.
North Canton, OH

"Very polite. Its a pleasure to see a crew come in and complete the job in..."

"Honest assesmeny of my problem and options on how to address it. "

"Corey and the other two assistants very professional, cordial and..."

"Great job, very professional"
Commonly addressed waterproofing questions from our customers
If you're interested in basement waterproofing services for your home, the local experts at Ohio Basement Systems are here to help! Call us today at 1-855-833-9801 or contact us online to learn more about how our proven basement waterproofing products can keep your home dry all the time! We offer free estimates in Cleveland, Akron, Youngstown, Warren, Lorain, Elyria, Mentor, Lakewood, Medina, Painesville and throughout the surrounding areas.