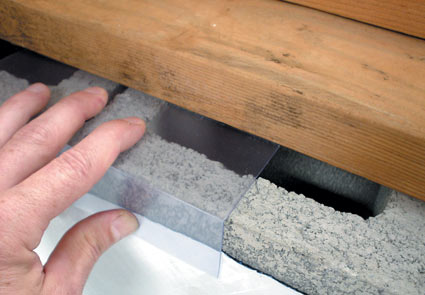 Block Wall Sealing Benefits
Effectively seals open cores along the top of concrete block walls.
Prevents problems with moisture, pests & radon gas.
Clear plastic provides high visibility for foundation inspection by pest control contractors.
Thick, durable plastic won't wear out or break.
Excellent solution for crawl space & basement walls made from hollow-core concrete blocks.
Block Wall Sealing Solution
Looking for product pricing?
Wall sealer is only available from a certified installer in your area. Contact us to request an inspection & get a free cost estimate to have it installed in your home.
Smart sealing strategy. Your Ohio Basement Systems technician will use special plastic masonry anchors to attach wall sealer barriers along the top of foundation walls.
Prevent pest and moisture problems by sealing open-core block walls
Does your basement or crawl space have foundation walls made from concrete block or cinder block? If so, it's possible that open cores along the top of your foundation walls are creating multiple problems. The open cores in a hollow-core block wall provide pathways for moisture, pests and radon gas to enter your basement or crawl space.
We designed the wall sealer to eliminate problems associated with open cores on foundation walls. The L-shaped profile of the wall sealer completely covers the open cores along the top of a concrete block wall, butting firmly against the rim joist. The vertical leg of the profile is sealed to the poly moisture barrier that extends up the wall, or to rigid foam insulation installed against the foundation wall.
Pest control inspectors love wall sealer for two reasons: It blocks a popular pest pathway from the soil to the house, and the clear plastic provides maximum visibility for detecting pest activity. The wall sealer also acts as an effective air barrier, reducing the intrusion of soil-related moisture and radon gas that enters a basement or crawl space.
We are the industry's leader for innovative crawl space repair products. Check out our solutions for encapsulation, water removal, structural repair and more.
Schedule your free inspection & estimate
Contact Ohio Basement Systems today to schedule a free crawl space inspection and estimate to have your block foundation walls sealed.
Looking for a price? Get a no cost, no obligation free estimate.