9 Effects of Crawl Space Moisture & How to Combat Them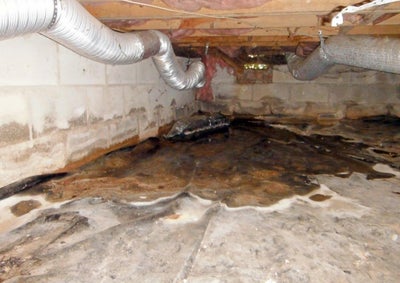 If you have a damp crawl space, you may be asking yourself whether it's a normal condition in your home or an ominous sign of underlying problems.
True, it's natural for the crawl space to become damp because it's under your house and the ground normally gets wet and dry with changes in weather. But there could be more going on beneath your home than you realize.
No matter how this issue arises, it's important to keep your crawl space dry year-round.
Let's explore the most common effects of crawl space dampness, what causes them, and how our locally-based team at Ohio Basement Systems can help you address them for good.
Is It Normal for the Crawl Space to Be Damp?
Let's start out by answering an age-old question. Yes, it is common for a crawl space to have moisture problems. However, this should not be considered a normal condition.
The moisture can come from numerous sources – soil evaporation, open vents, leaking pipes, and exterior flooding.
Some people may not notice something is wrong because they rarely visit this space. It truly pays to inspect this space and fix the moisture problems it has. Otherwise, you will have to deal with the effects of water damage and mold. None of which is going to be pleasant or cheap to fix.
How Moisture Affects Your Crawl Space & Home
Crawl space moisture problems come in many forms and have various side effects that impact your crawl space, home, and family. Here are the nine most common effects of crawl space moisture: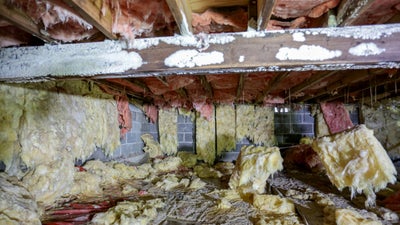 Condensation
Musty odors
Pest infestation
Sagging floors
What is the Ideal Crawl Space Humidity Level?
This is another burning question. Crawl space moisture and humidity cause plenty of trouble, so it's important to keep them in check and under a certain level.
Ideally, it's best to maintain humidity levels between 30 and 50%.
If humidity is higher, mold, mildew, and other problems have a better chance of developing and attacking your home. If the humidity is lower than this range, the air will be too dry, possibly resulting in wood damage and health issues like breathing problems.
How to Fix Crawl Space Moisture
So, how do you keep your crawl space dry and your home healthy? Here are the most effective solutions: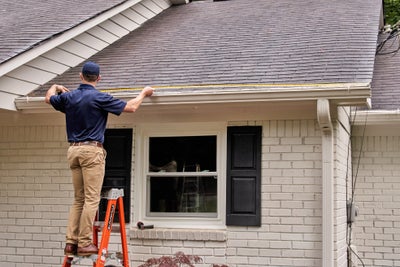 Maintain Exterior Drainage
Don't let melting snow and roof runoff damage your home. Take action now to prevent flooding in your crawl space.
First, check your gutters and downspouts for any damage and have them repaired by a professional roofing service.
Next, address any negative yard grade issues by speaking with a trusted landscaping company. Re-grading your yard will ensure that rainwater and snow drain away from your foundation, avoiding costly structural damage.
Close Crawl Space Vents and Doors
Protect your crawl space from outside water intrusion by sealing up vents and upgrading to new door covers.
At Ohio Basement Systems, we block off vents from inside your crawl space by cutting our insulation panels to fit the space. We can also add exterior vent covers upon your request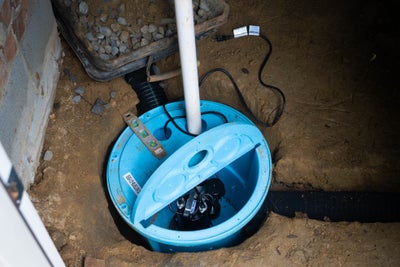 Waterproof the Crawl Space
Keep your crawl space dry with crawl space drains and sump pumps. These handy tools effectively prevent water from entering your crawl space.
The drains efficiently collect any leaking water or groundwater, while the powerful sump pump removes it from underneath your home.
And for added peace of mind, you can equip your sump pump with a durable battery backup, ensuring that it continues to work even during a power failure.
Encapsulate the Crawl Space with a Vapor Barrier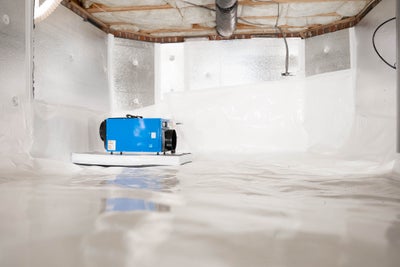 Enhance your crawl space protection with a robust 20-mil vapor barrier. Keep moisture, pests, and groundwater at bay for ultimate peace of mind.
Dehumidify the Crawl Space
Keep your indoor air fresh and clean with an energy-efficient crawl space dehumidifier! Say goodbye to dampness and musty odors as our top-notch unit brings down moisture levels to a comfortable 30 to 50%.
Not only that, but it also filters the air and eliminates unpleasant odors. Experience the perfect humidity and enjoy a healthier living space with our quality dehumidifier.
Rid Your Home of Crawl Space Dampness with Expert Help
Are you worried about the damage moisture in your crawl space could do to your home? Contact our trusted team at Ohio Basement Systems today to book a free crawl space inspection and repair estimate.
We have helped homeowners throughout Greater Cleveland and Northern Ohio repair and protect their crawl spaces for more than 20 years. We're happy to evaluate your crawl space, too, and recommend the best solution to fix your problem.
Publish Date:
Last Modified Date:
Our Locations
Mansfield
1 Marion Ave, Suite 309
Mansfield, OH 44903
(567) 275-8588
Twinsburg
7950 Bavaria Rd.
Twinsburg, OH 44087
(330) 235-1229
Westlake
159 Crocker Park Blvd, 4th floor
Westlake, OH 44145
(330) 235-1229
Willowick
35475 Vine St, Suite 216,
Willowick, OH 44095
(440) 332-4339
Youngstown
8531 Market St.
Youngstown, OH 44512
(330) 400-3783