Is Insulation Good For My Crawl Space?
How comfortable is your indoor temperature? Does there seem to be an eternal struggle over the thermostat?
Generally, homeowners strive to maintain optimal temperatures inside their houses all year round. Unfortunately, heat transfers through the roof, walls, floors, and windows, resulting in temperature fluctuations. When this happens, homes become cold and unbearable during winter, and difficult to cool down during sweltering summers.
One solution that can help deal with this problem is insulation, a technique that creates a hospitable indoor environment by curtailing heat loss. You may be familiar with fiberglass insulation or spray foam in your attic or in your walls, but there's another area that needs this solution – your crawl space.
Let's delve into the world of crawl space insulation, what works and what doesn't, and how the professionals at Ohio Basement Systems can help you create a healthier and more comfortable living environment.
Seven Benefits of Crawl Space Insulation
With the right insulation in place, your crawl space and home reap a variety of benefits, including:
1. Temperature Regulation
Crawl space insulation helps maintain a constant temperature within a home. This is especially important during extreme seasons like summer and winter. During winter, insulation ensures your home maintains warm or moderate temperatures, which makes life comfortable. In summer, it keeps the rooms cool.
2. Saves Energy
Crawl space insulation is also essential as it reduces energy consumption. Your crawl space won't lose heat or gain it through the building's envelope. By curbing unwanted temperature changes, this mechanism lowers your heating and cooling energy demands – meaning your HVAC won't have to run as much – and, ultimately, reduces your energy costs.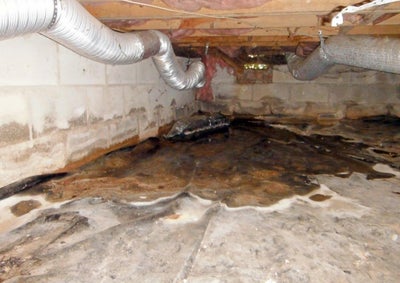 3. Prevents Condensation
Homes without proper or effective insulation tend to have condensation issues. This results in unsightly spots appearing on your walls – which you can see here – that are usually a fusion of mold and dust particles. Insulation prevents this phenomenon since the temperatures in your home do not fall below the critical condensation point.
4. Prevents Mold and Mildew
Mold and mildew thrive in damp spaces. When your walls are not insulated, cold vapor condenses, causing your area to be moist, also depicted in this photo. Insulating your crawl space deters mold and mildew from growing and colonizing your home.
5. Eco-Friendly
Insulation helps you conserve resources that you would normally use to heat your house in the winter or cool it down in the summer. We are talking about naturally occurring resources like fossil fuel and coal that powers many homes. Your house won't consume a lot of energy, automatically reducing all the pollution associated with generating it.
6. Prolongs the Lifespan Of Your Home
Proper insulation also contributes to a much stronger and more durable building. By reducing heat movement and condensation, crawl space insulation prevents mold, freezing, and humidity. This prevents wood decay and corrosion of metallic features, which often weakens the underlying structure.
7. Noise control
A well-insulated crawl space also reduces noise levels by absorbing sounds emitted within the building. This makes it easier for those inside to communicate efficiently.
Types of Crawl Space Insulation
You have a variety of insulation materials to choose from, so let's cover some of the most popular and why they should or shouldn't be used in your crawl space.
Fiberglass Insulation: While this is the most widely-used insulation in homes across the country and typically the most affordable, it does not belong in a crawl space. Soft fiberglass insulation is prone to moisture problems, mold growth, and pest infestations, none of which are healthy in your crawl space or home.
Loose-Fill Insulation: This type can fit into small areas like crawl spaces, making it more versatile. However, it can settle over time and fail to effectively insulate your crawl space or home.
Rigid Foam Insulation Panels: Placed on interior crawl space walls, these panels effectively prevent heat transfer and can also act as a moisture barrier. It's also water and pest-resistant.
Take a look at these two photos. Which would you want protecting your crawl space, your home, and your family – fiberglass insulation that easily fails and contributes to nasty conditions or sleek panels that stand the test of time?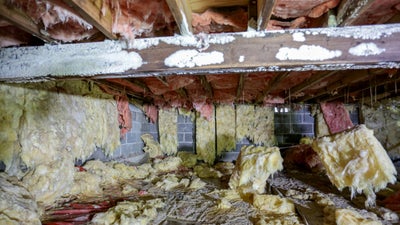 ExTremeBloc™ Insulation: Protect Your Crawl Space with the Best
At Ohio Basement Systems, we truly care about your home and your family. That's why we only offer the best materials guaranteed to protect what you cherish most. We recommend and install ExTremeBloc™ crawl space insulation.
Here are key features that make our crawl space insulation solution different: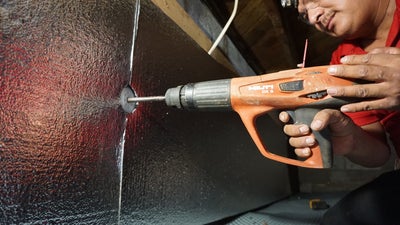 High R-value rating (R-10)
Made of expanded polystyrene foam infused with graphite
Eco-friendly materials
Resists moisture and mold
Integrated termiticide deters pests
Easy for professional crews to install and maintain
Installed with an inspection gap, allowing for pest control inspections
Compatible with other crawl space encapsulation solutions
Covered by an extensive warranty
Trust OBS for Your Crawl Space Insulation Needs
Need help insulating your crawl space? While taking on DIY repairs is great for other projects, your crawl space can be a tricky area. But our team at Ohio Basement Systems has you covered with the right tools and training to insulate your crawl space the right way the first time. Contact us today to schedule your free crawl space inspection and estimate to properly insulate and seal up the crawl space and home.