The Benefits of Crawl Space Mold Treatment
If your home was built on top of a crawl space, it is susceptible to a common problem – mold.
Mold is like a bad penny if your crawl space has excess moisture; it will always be there.
Mold is a type of fungus that thrives in damp and humid conditions. Unfortunately, your crawl space is the perfect environment for mold because of Northern Ohio's muggy summers and frequent rain.
Mold attracts pests, can lead to structural instability, and can be a health hazard to you and your family. That's why it's important to show your crawl space some TLC with professional inspections and repairs.
In this article, we'll explore how mold forms, how it negatively impacts your home, and how your crawl space can benefit from mold treatment and other repairs.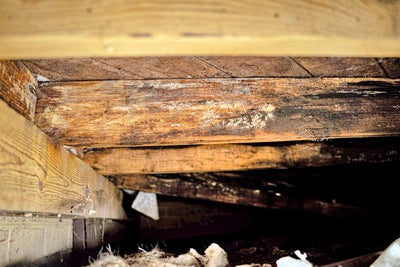 How Mold Forms
Mold only needs a few things to grow and thrive:
Air
Moisture
Organic Materials
Most crawl spaces have open vents that allow air and precipitation inside. This subterranean area is naturally cooler, but hot summertime air and cold winter air can drastically affect the temperature inside.
Especially during muggy days, the air and any groundwater or precipitation will drive up humidity levels. Mold will begin to form when the relative humidity in the crawl space is above 50 percent.
Mold's typical food source is organic material like wood crawl space supports and fiberglass insulation.
What Mold Does to Your Home and Family
Once mold has taken hold in your crawl space, it can wreak havoc on this area, as well as the rest of your house. That's because the stack effect – the movement of air in a building from bottom to top – is at work in vented crawl spaces. This means crawl space conditions and hazards like mold spores can become airborne and circulate throughout your living space.
Here's a look at some of the ways mold growth affects your crawl space, home, and family:
Attracts pests
Damages fiberglass insulation
Leads to sagging floors and structural instability
Grows in other areas of your house
Damages belongings (carpet, drywall, etc.)
Emits unpleasant, musty smells
Worsens asthma, allergies, and respiratory problems
Crawl Space Mold Treatment: What Not to Do
DIY projects work well in many situations, but crawl space repairs like treating mold are not among them.
Crawl spaces are both fragile and treacherous, so going into this area under your house for any reason is ill-advised.
There are several "home remedies" you can apply and other actions you can take on your own that DIY enthusiasts often recommend. Again, these are not recommended, but we simply wanted to list them here to illustrate what you should NOT do regarding treating or removing crawl space mold.
Spraying and scrubbing with vinegar
Using bleach
Mixing chemicals and cleaning agents
Scraping mold off wood supports
These "quick fixes" won't get to the root of the problem, which means you'd have to continually purchase these materials and apply them. Not only are they a waste of time and money, but they can also expose you to health risks.
How Professionals Treat Crawl Space Mold
You've seen what mold can do to your home and family, so it's clear that it needs to be properly addressed as soon as possible.
Rather than put your health and safety at risk, your best bet for effectively addressing crawl space mold is with professional assistance. You've got your pick of area experts serving Northern Ohio, including mold remediation specialists and crawl space repair pros, like Ohio Basement Systems.
Here's how our team tackles the problem with crawl space mold treatment.
How to Prevent Crawl Space Moisture Issues and Mold Growth
Crawl space mold treatment with a biocide spray is a crucial step, but it is not the only one that should be taken to keep your crawl space safe, healthy, and mold-free.
Here are steps the pros take to permanently address crawl space problems so mold won't have a chance to take hold of your crawl space again.
Create a Mold-Free Home with Help from Local Pros
Mold spores and growth in your crawl space can seriously affect your home and pose health hazards. If you suspect that there is mold in your crawl space, it's important to contact a professional for mold treatment and encapsulation.
Encapsulation can help to prevent moisture from entering your crawl space and causing mold growth while improving the air quality in your home, saving you money on your energy bills, and increasing the overall value of your home.
Our team of experts at Ohio Basement Systems has been encapsulating and transforming crawl spaces for more than 20 years. We are eager to help you create a safer and healthier home. It takes just a few minutes to get started. Contact us today to schedule your free inspection and repair estimate.
Publish Date:
Last Modified Date:
Our Locations
Mansfield
1 Marion Ave, Suite 309
Mansfield, OH 44903
(567) 275-8588
Twinsburg
7950 Bavaria Rd.
Twinsburg, OH 44087
(330) 235-1229
Westlake
159 Crocker Park Blvd, 4th floor
Westlake, OH 44145
(330) 235-1229
Willowick
35475 Vine St, Suite 216,
Willowick, OH 44095
(440) 332-4339
Youngstown
8531 Market St.
Youngstown, OH 44512
(330) 400-3783