Basement Waterproofing and Foundation Repair in Westlake, OH
Keeping water out of the basement can be difficult for homeowners in Cleveland suburbs like Westlake because of all the rain and snowmelt. Ohio Basement Systems can keep your basement and foundation protected against harsh Northeast Ohio weather.
Services
Date & Time
Contact Info
Complete
Schedule Your Free Inspection
What do you need help with?
Westlake Local Office
Ohio Basement Systems
159 Crocker Park Blvd 4th Floor
Westlake, OH 44145


Hours of Operation
Monday – Friday: 7 am – 9 pm
Saturday: 8 am – 6 pm
Sunday: 10 am – 7 pm
Award-Winning Solutions in Westlake
Ohio Basement Systems, a Groundworks Company, specializes in helping homeowners with their foundation repair, basement waterproofing, crawl space encapsulation, and concrete lifting needs. Our top priority is providing high-quality home repair solutions and personalized service throughout Northern Ohio. With fully trained staff, industry-leading products, and nationally backed warranties, Ohio Basement Systems is here to restore your foundation or basement.
Why Homeowners Choose Ohio Basement Systems
Since 1999, Ohio Basement Systems – a Groundworks Company – has been the premier source for innovative, quality foundation repair and water management solutions. Whether it is a settling foundation, wet basement, moldy crawl space, or uneven concrete that is causing problems, Ohio Basement Systems is the go-to for thousands of homeowners throughout northern Ohio.
Our experienced team knows your house is more than just four walls and a roof. It's where you feel comfortable and enjoy making memories with your loved ones. We understand how much your home means to you, and it's important to us, too. Trust us to install the very best foundation repair, basement waterproofing, crawl space repair and encapsulation, and concrete lifting and leveling solutions for permanent repair and protection.
Visit Company (Opens in New Tab)
Visit Company (Opens in New Tab)
Our Services for You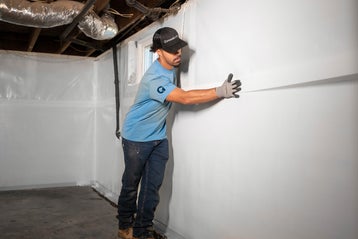 Basement Waterproofing in Westlake
Some homeowners don't think twice about having a damp, musty, leaking basement because they believe it's the norm. While these and other basement issues like mold, efflorescence, and flooding are common, they are not normal or healthy living conditions. They negatively impact the rest of your house, as well as your family's well-being. If your home doesn't have proper drainage or a sump pump is faulty, your basement won't be able to handle Westlake's more than 90 inches of annual precipitation (39 inches of rain and 53 inches of snow). Water will then leak inside and cause a variety of problems. Ohio Basement Systems can help you weather the storm with interior drainage, wall vapor barriers, sump pumps, dehumidifiers, and other permanent basement waterproofing solutions. 
Foundation Repair in Westlake
A solid foundation is what sets the stage for a stable home that stands the test of time. However, if your foundation is cracked, settling, heaving, or suffering from other damage, your house will suffer too. These issues are largely due to Westlake's silt and clay soils that become unstable due to 39 inches of annual rainfall and runoff from 53 inches of annual snowfall. Unsteady soil cannot properly support your house, and you'll notice wall cracks, brick cracks, floor cracks, bowing walls, uneven floors, and other issues. Make sure your home stays on solid ground with Ohio Basement Systems' customizable foundation repair solutions including wall beams, wall anchors, pier systems, or crawl space supports.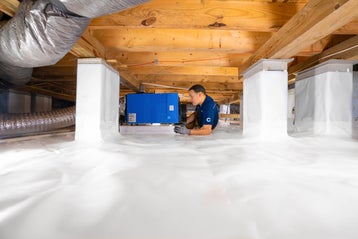 Crawl Space Repair & Encapsulation in Westlake
If your house has a crawl space elevating it off the ground instead of a full, below-ground basement, this area of your home is susceptible to damage with widespread effects. Crawl spaces are typically designed with open vents and uncovered dirt floors. This allows bugs, other pests, hot and humid summer air, cold winter air, and runoff from Westlake's more than 90 inches of annual precipitation to easily get inside and wreak havoc. Mold, infestations, damaged insulation, musty odors, wood rot, and other problems will ensue. Seal off and protect your crawl space for good with our vapor barriers, drainage, sump pumps, dehumidifiers, support posts, and more.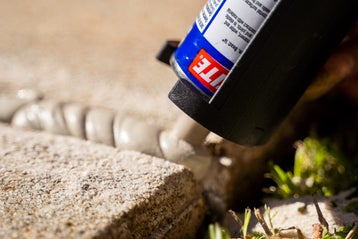 Concrete Lifting & Leveling in Westlake
Concrete is used all around your property – from your interior slab floors and garage floor to exterior steps and the sidewalk. Concrete slabs are durable, but, like your concrete foundation, they can crack, sink, settle, and heave. If Westlake's silt and clay soils lack moisture, they shrink and leave cavernous gaps. More often than not, however, the soils remain soaked by 39 inches of annual rain and 53 inches of annual snow. Soft, unstable soil can't support heavy concrete, and concrete slabs will shift and become uneven. For reliable concrete lifting and leveling, trust Ohio Basement Systems' innovative polyurethane injection system. It's lightweight, long-lasting, non-invasive, waterproof, and quick curing so you can go back to using your concrete the same day as installation! 
FAQs
Waterproofing your property's basement is one of the most important things that you can do to protect your home from the stresses of environmental factors and pressures. It is also an essential part of basement finishing for homeowners who are looking to convert their basement into a living or sleeping space.
When You Are Finishing Your Basement
Basement finishing and conversion are very common these days, as more and more people look for ways to make the most of the space in their homes. Waterproofing is a very important part of the process of finishing a basement. In fact, it is fundamental to the continued health of any space that is created inside a basement. Waterproofing as a matter of course when you convert a basement has many benefits.
Most obviously, this process will make the space far more comfortable and healthy to live and sleep in. Waterproofing lowers humidity, prevents mold formation, and makes the likelihood of pest infestation far less likely. This clean, dry, stable climate will also be easier to heat and cool, thereby keeping your energy usage to a minimum and even lowering your property's energy bills as a whole. After all, your basement has an effect on your whole home.
Do Not Wait for Damage
Waterproofing is generally a part of any basement or foundation repair process because it can contribute to preventing the recurrence of the issues. However, we urge you not to wait until there is damage to your home before waterproofing your basement. You see, while there are benefits to pre-emptive waterproofing, there are also very serious drawbacks to waiting until your property is damaged to begin the process of waterproofing.
The most obvious issue, of course, is that by waiting for damage to take root before you waterproof your basement, you will leave yourself with damaged property and potentially hefty repair costs to grapple with. This will cost you far more money in the long run and could even impact your health and well-being, depending on the issues that develop in your home before you act. As such, it is best to pre-emptively waterproof your basement (even if you are not planning on using it as a living space).
Foundation settling often gets detected after the house is falling apart. If you've spotted the problem signs and have determined that your foundation is failing, you need to act fast. Settling only gets worse with time, which means that what you are seeing will become more of a problem later on. If allowed to go on for too long, the house may even become too structurally unsound to live in. Before that happens, call your local foundation experts for repairs.

Foundation problems are not something you can just DIY, like a paint job or hanging a painting. For the job to be done right, professional solutions are required. At Ohio Basement Systems, we provide the best foundation repair options for the homeowners of Youngstown, OH, such as helical piers and push piers. These pier support systems will permanently stabilize your foundation and completely stop the settling. The piers even have the potential to lift your home and even it out again.

After repairs are done, you can go about repairing any damage created by the foundation settling. If any door and window frames are warped, get them replaced. If any walls have cracks, get those patched up. It's not worthwhile to repair your home when it's settling, since anything that isn't a support pier will not stop the damage caused by settling. If you haven't already, also consider waterproofing your foundation, since some problem with the foundation drainage may have caused the settling.
Dealing with an exposed crawl space can take a number of forms.Preventing damage is ideal, but when it has already taken root, there are repair methods available.

Structural Repairs

Structural repairs will always take precedence when there is a professional involved. In fact, they should always take precedence over waterproofing measures and cosmetic repairs. That's because if they are not completed before these processes, the issue could recur or grow in severity and scope. This will make the situation more dangerous and could increase repair costs overall.

Structural repairs cover a broad number of processes including foundation repair, concrete lifting, joist repair and replacement, and wall reinforcement. The nature of structural repairs required in each home will vary depending on a number of factors. This is why we recommend that you call in a professional as soon as possible.

Waterproofing and Encapsulation

If there are no structural repairs needed or the structural concerns have all been resolved, a professional will most likely suggest crawl space waterproofing or encapsulation. This will include covering exposed vents and crawl space access doors but goes much further and has many tangible benefits for your whole home.

Like structural repairs, encapsulation varies from home to home and is tailored to the confines of a specific situation. Generally speaking, however, structural repairs include drainage assessment and improvement, insulation, and the installation of a vapor barrier, as well as the covering of vents and doors. This will improve energy efficiency, reduce humidity, and even allow you to use your crawl space for storage. 
Publish Date:
Last Modified Date:
Our Locations
Mansfield
1 Marion Ave, Suite 309
Mansfield, OH 44903
(567) 275-8588
Twinsburg
7950 Bavaria Rd.
Twinsburg, OH 44087
(330) 235-1229
Westlake
159 Crocker Park Blvd, 4th floor
Westlake, OH 44145
(330) 235-1229
Willowick
35475 Vine St, Suite 216,
Willowick, OH 44095
(440) 332-4339
Youngstown
8531 Market St.
Youngstown, OH 44512
(330) 400-3783