Leaking Basement Window
Basement windows offer the allure of natural light and, combined with egress systems, serve as crucial safety exits in emergencies. However, the benefits come with inherent problems.
Leaking basement windows are a widespread dilemma, creating many health and safety hazards detrimental to your household and loved ones.
Ohio Basement Systems is your dependable ally in navigating and resolving such issues, offering customized and durable solutions beyond mere makeshift repairs. We specialize in detailed basement waterproofing systems that address the problem at its core, guaranteeing your peace of mind.
This page will teach you the causes, effects, and repairs of leaking basement windows to help you make an informed decision for your home.
Understanding Leaking Basement Windows 
Leaking basement windows are compromised, allowing water to infiltrate indoor spaces. They are identified by:
Apparent moisture
Water stains
Water accumulation around window structures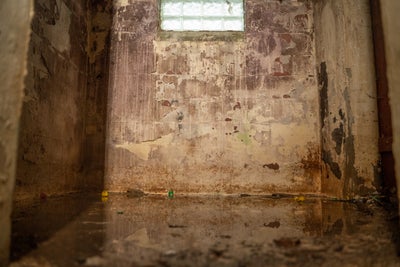 Aging or deteriorating window systems easily succumb to water's persistent nature, often leading to:
Leaking basement windows significantly impair your home's structure and safety. If such symptoms appear, contact Ohio Basement Systems for an immediate and thorough inspection.
Root Causes of Leaking Basement Windows 
Primary initiators of leaking basement windows include:
Material Degradation: Elements like wood, metal, and vinyl are susceptible to decay and corrosion.
Faulty Installation: Improperly installed windows can result in openings, allowing water intrusion.
Aging: Older window structures tend to be more prone to leaks due to diminished efficacy.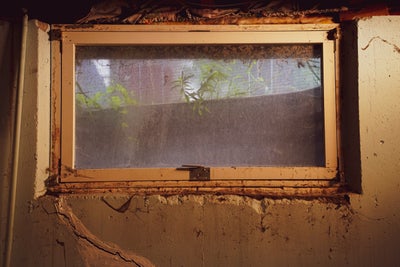 Drainage Complications: Issues with window well drainage can lead to water accumulation and internal leaks.
Exterior Pressure: When saturated, expansive clay-based soils exert hydrostatic pressure on the basement walls and may drive water through even the smallest cracks.
Weather: Environmental conditions and seasonal variations prevalent in Northern Ohio further intensify these problems, with the freeze-thaw cycles contributing to the degradation of window materials.
Addressing these intricate causes requires accurate assessment and repair. Contact Ohio Basement Systems for a free, comprehensive evaluation.
Can Leaking Basement Windows Be Fixed? 
Absolutely, leaking basement windows can be repaired.
However, achieving a lasting solution goes beyond quick fixes, such as caulking, sealing, or total window replacement.
Ohio Basement Systems delivers holistic basement waterproofing strategies, addressing the fundamental causes of leaks to prevent recurrences.
Our Approach to Fixing Leaking Basement Windows 
With Ohio Basement Systems, our repair process includes:
In-depth Inspection: A meticulous assessment to pinpoint the leak source and propose personalized repairs.
Interior Drainage: A system to channel leaking water to a sump pump while alleviating hydrostatic pressure.
Sump Pump: Efficient removal of collected water from the basement.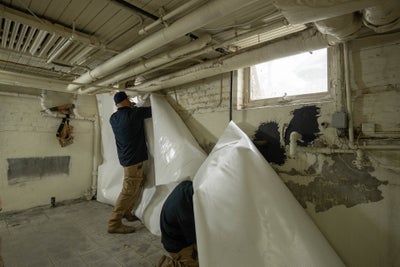 Vapor Barrier: Prevention of water vapor intrusion and efficient waterproofing by directing leaks to the drainage system.
Dehumidifier: Maintenance of optimal moisture levels to prevent mold growth and eliminate unpleasant odors.
Wall Reinforcement: Strengthening measures to combat wall cracking and movement.
Our specialized products are engineered to offer permanent solutions to leaking basement windows tailored to your home's unique needs and challenges.
Importance of Addressing Leaking Basement Windows 
Addressing leaking basement windows is vital to:
Thwart Mold Growth: Damp environments are conducive to mold.
Boost Energy Efficiency: Leaks can lead to increased energy consumption.
Maintain Structural Integrity: Persistent moisture can compromise structural strength.
Safeguard Possessions: Prevent damage to items stored in the basement.
Enhance Property Value: A well-maintained basement enhances property value.
Trust Ohio Basement Systems for long-lasting and effective solutions designed to address these concerns.
Choose Ohio Basement Systems for Trusted Waterproofing Solutions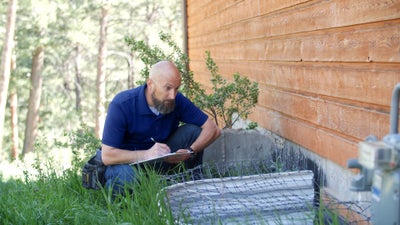 A leaking basement window can quickly escalate and result in significant problems impacting your health and safety. Protect your home and peace of mind from the detriments of leaking basement windows with Ohio Basement Systems.
With more than 20 years of serving homeowners in Northern Ohio, we promise efficiency, durability, and top-notch customer service. Contact us today for a free, no-obligation inspection and estimate and step towards a secure, healthier home.
FAQs
If you're money conscious, then you may be reluctant to reach out for professional assistance when dealing with a leak. DIY home repair, however, isn't always as cost-effective as you want it to be. If you're looking to save money, it's often in your best interest to work with the professionals in your area.
The Cost of Repairing Your Window Wells and Seals
Shopping for DIY home repair can be a daunting task for more than one reason. For starters, you have to determine what, precisely, has gone wrong with your basement windows. If it turns out that a piping leak has caused hydrostatic pressure levels in your home to skyrocket, then you're going to need to repair both your window wells and the pipes in your basement.
What's more, you'll need to add to any toolkit you have that doesn't have what you need to repair your home. These costs, combined with the material costs of DIY basement repair, can rapidly run through the budget you've already set aside. Professionals, comparatively, already have the tools they need to repair your basement window wells on hand, meaning that they save you money when they step onto your property.
The Danger of Making Mistakes During the DIY Process
There's also a chance that you may make a mistake while trying to repair your window wells without help. Now, mistakes aren't a bad thing under other circumstances. However, mistakes made when repairing your window wells can compromise the structural integrity of your entire home.
Say you walk away from a window well repair thinking your job's done. In reality, the water damage that weakened your windows may have originated somewhere else in your home. If you don't make a point of locating and repairing that damage, then the window well work you've already done will essentially be for naught. Professionals, on the other hand, complete comprehensive inspections of your entire basement. They address all potential concerns within your home, ensuring that the work they do keeps your basement watertight long after they leave.
Window wells are a common and simple way to stop leaks in basements. They are small pits made around basement windows that separate the window from the yard soil. These pits allow windows to separate from wet soil without having to completely cover them up, thus allowing natural light to pass through. Window wells make sure that nothing touches the basement window, and some even provide the window some light cover from the rain. While window wells are useful in preventing some leaking, there's more to basement waterproofing than the window.

Even if you've only ever noticed the leaking coming through the window, there are other ways in which leaks can occur in your Steubenville home's basement. Your basement contains your plumbing, so when one of those pipes bursts, there needs to be a system in place to collect the water and eliminate the resulting moisture. Malfunctioning washing machines, leaking water heaters, and even condensation are all things that result in a wet basement. Oftentimes, these small leaks don't pose an immediate threat to homeowners, so they are widely ignored. However, they promote mold growth, which can cause problems with your concrete, wood, and your health.

Window wells are a great way to start waterproofing your basement, but you shouldn't stop there. Implementing other foundation waterproofing solutions will guarantee a dry, problem-free basement. There are a lot of ways in which a basement can experience heat and humidity, so that means that multiple solutions need to be used to fully protect the basement. If you feel overwhelmed and don't know where to start with basement waterproofing, then you can always contact us for a free inspection so you know exactly what you need.
Costs depend on various factors, such as the extent of damage and type of repair. However, you can expect free inspections, no-obligation estimates, no hidden costs, and various financing options with Ohio Basement Systems. Contact us today to learn more. 
Publish Date:
Last Modified Date:
Explore more problem signs
Our Locations
Mansfield
1 Marion Ave, Suite 309
Mansfield, OH 44903
(567) 275-8588
Twinsburg
7950 Bavaria Rd.
Twinsburg, OH 44087
(330) 235-1229
Westlake
159 Crocker Park Blvd, 4th floor
Westlake, OH 44145
(330) 235-1229
Willowick
35475 Vine St, Suite 216,
Willowick, OH 44095
(440) 332-4339
Youngstown
8531 Market St.
Youngstown, OH 44512
(330) 400-3783