Water in Your Basement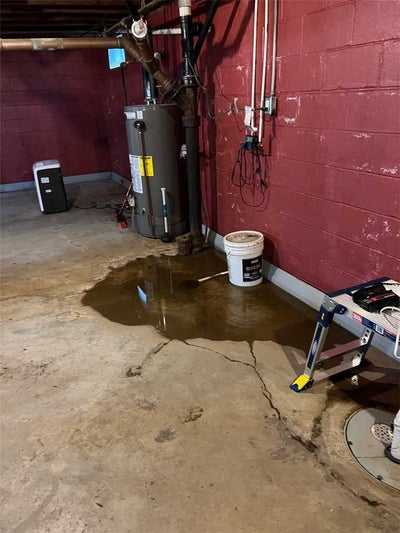 Even if you don't visit your basement often, finding water leakage or pooling can be startling.
Water in your basement, ranging from minor leaks to significant flooding, is not merely inconvenient—it can result in severe damage and expensive repair bills.
Ohio Basement Systems understands the detrimental effects of basement water and specializes in delivering unique basement waterproofing solutions in Northern Ohio to combat this issue permanently.
Explore this page to understand the sources of water entry, the significance of prompt intervention, and how we can assist you in addressing these issues.
Understanding Basement Water Issues 
Basement water problems appear in many forms, including minor leaks or major floods. Signs of water in your basement include:
Distinctive musty odors
Mold formation
Property damage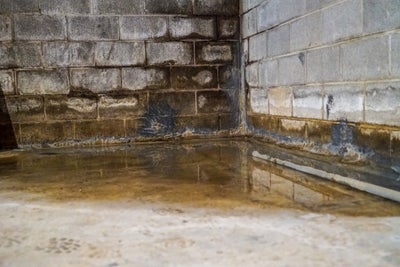 The consequences extend beyond visible water presence, affecting structural integrity, property value, and health. Immediate professional intervention is essential to address these underlying problems.
What Leads to Water in the Basement? 
Several aspects can cause basement water accumulation, such as:
Weather Patterns: Excessive rainfall or melting snow can overwhelm drainage systems and raise groundwater tables to basement levels during damp periods.
Inadequate Drainage: Ineffective drainage systems—including malfunctioning gutters, downspouts, and footing drains—fail to divert water away from the foundation properly.
Improper Grading: Poor landscape grading can direct water toward your home's foundation, rather than away from it.
Hydrostatic Pressure: Saturated expansive soils can exert hydrostatic pressure on walls, causing cracks and leaks.
Wall Construction: Vulnerable concrete structures can absorb water, resulting in leakage. Construction flaws can also make them susceptible to water damage.
Window Leakage: Old or damaged windows can allow water entry.
Internal Leaks: Leaks from plumbing, appliances, and malfunctioning sump pumps can also cause basement water accumulation.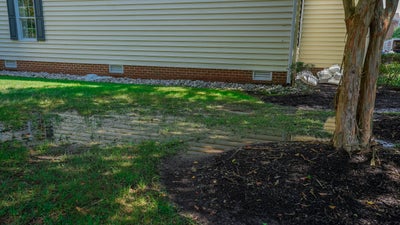 Identifying and addressing these underlying causes is crucial to avoiding recurrent issues, which is where Ohio Basement Systems excels.
Is It Possible to Fix Basement Water Issues? 
Absolutely, resolving water issues in basements is feasible.
However, relying on DIY temporary solutions like towels and "waterproof" sealants won't suffice. For lasting resolutions, a thorough approach targeting the entire home is vital.
Ohio Basement Systems provides customized solutions, addressing visible water and the conditions facilitating water entry.
How Ohio Basement Systems Resolves Basement Water Issues 
Effective waterproofing involves several key steps:
Evaluation 
Our experts conduct a free, thorough inspection to pinpoint the problem's source and suggest suitable repair options.
Interior Drains 
We install a specialized interior perimeter drainage system to capture leaking water and channel it into a sump pump system.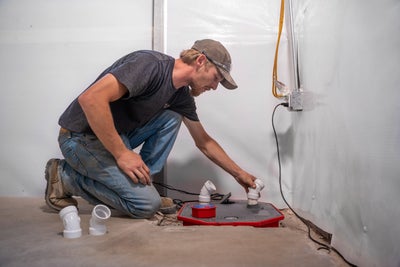 Sump Pumps 
We position robust sump pumps at your basement's lowest point to collect and expel water effectively.
Outdoor Sump Pump Discharge Line Attachment 
Our innovative anti-freeze attachments prevent the freezing of discharge lines, ensuring smooth water drainage.
Dehumidification 
Our energy-efficient dehumidifiers control moisture levels, eliminate odors, and hinder mold growth.
Wall Vapor Barriers 
High-quality basement wall vapor barriers thwart vapor intrusion and channel any leakage to the drainage system.
Additional basement repair techniques—including wall anchors and carbon fiber straps—strengthen your basement walls for increased security.
Ohio Basement Systems utilizes specialized products to offer reliable, personalized solutions, ensuring comprehensive waterproofing, avoiding superficial, temporary fixes.
Importance of Prompt Intervention 
Promptly addressing basement water issues is essential to prevent:
Health Concerns: Mold and mildew compromise indoor air quality.
Structural Deterioration: Water damage weakens structural foundations.
Property Damage: Items stored can be irreversibly damaged.
Devaluation: Unattended water issues depreciate property value.
Escalating Repair Costs: Delaying interventions escalates repair costs.
Ohio Basement Systems provides proven strategies to permanently resolve basement water issues, preventing further complications.
Contact Ohio Basement Systems for Dependable Waterproofing Solutions!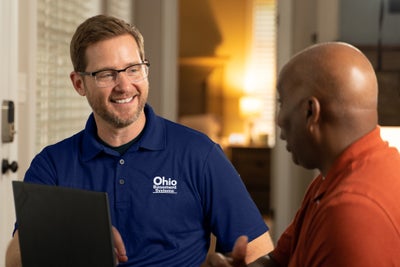 Basement water troubles can escalate into significant concerns. Safeguard your home and loved ones by contacting Ohio Basement Systems for a free, no-obligation inspection and regain your peace of mind.
Leverage our renowned services in Greater Cleveland and Northern Ohio, characterized by exceptional customer service and holistic solutions, to permanently safeguard your basement against water intrusion. 
FAQs
We do not recommend that you attempt a DIY waterproofing process. The potential drawbacks are many. It is far safer and more effective to let a professional with the proper skills and experience undertake the work for you.
DIY Disasters
The problem with DIY waterproofing has two main elements. First and foremost, it is very hard for non-professionals to fully assess the needs and complexities of a basement that is dealing with damage and dampness. This is partly because of a lack of experience, but also because there are often structural issues at work. If you do not account for these issues, your waterproofing will be ineffective and could even create an incubator environment for dampness, mold, and pests.
Likewise, non-professionals often find it hard to get all of the best and most up-to-date products for basement waterproofing. This means that even if you successfully waterproof your basement alone, you are likely to pay more for a less effective and durable result because of the quality of the products. As such, it pays to hire a professional.
Professionals Get the Job Done
Not only do professionals have access to the best possible products and tools, they have the skills to put them to most effective use. Furthermore, professionals can deal with any complications that present themselves. Unlike most amateurs, professionals will have dealt with most situations before, even if the specifics differ a little. This means they will be able to act and react seamlessly without the need for unnecessary pauses or the redoing of work that has already been completed as a result of miscalculation or accidental damage.
This becomes incredibly important when you are dealing with structural and foundational issues like settlement, subsidence, and things like bowing walls. Professionals will also have the equipment and tools needed for structural repair to hand, meaning that you will not have to wait for them to be able to deal with your property's subsidence, deteriorating walls, or damaged basement window wells. Instead, they will be able to keep the process of repair and waterproofing moving at a steady pace, while offering a consistently high-quality result at a reasonable cost. In fact, because of all these issues, professional waterproofing is very often cheaper than DIY in the long run.
As tempting as it is to ignore seemingly "small" basement leaks, you should always fix basement leaks as soon as you notice them. The problem is that so-called "small" basement leaks can very easily turn into much larger basement leaks and completely flood your basement. This is especially true if you don't have a sump pump to drain out the water.
Costs vary based on damage severity and chosen solutions. Ohio Basement Systems provides free inspections, transparent pricing, no-obligation estimates, and various financing options. Contact us today to learn more.
Publish Date:
Last Modified Date:
Explore more problem signs
Our Locations
Mansfield
1 Marion Ave, Suite 309
Mansfield, OH 44903
(567) 275-8588
Twinsburg
7950 Bavaria Rd.
Twinsburg, OH 44087
(330) 235-1229
Westlake
159 Crocker Park Blvd, 4th floor
Westlake, OH 44145
(330) 235-1229
Willowick
35475 Vine St, Suite 216,
Willowick, OH 44095
(440) 332-4339
Youngstown
8531 Market St.
Youngstown, OH 44512
(330) 400-3783