Wet Basement Walls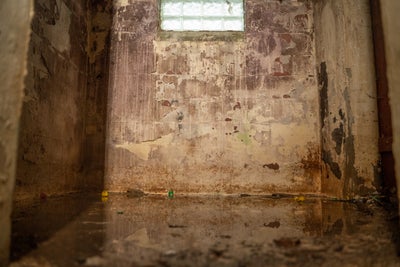 Sturdy basement walls are crucial to your home's health and stability. Serious damage can ensue and endanger your home and family if these walls are wet.
Encountering wet basement walls is an inconvenience and an alarming indicator of potentially severe underlying problems. It is crucial to understand the fundamental causes of wet basement walls and the corrective measures to address them.
With a dedicated team of experienced professionals, Ohio Basement Systems specializes in diagnosing and resolving wet basement wall complications and related damages. With more than 20 years of hands-on experience and a commitment to providing lasting basement waterproofing solutions, we aim to convert your damp basement into a dry, healthy space.
Consider this page your guide to understanding and navigating through the repair and prevention of wet basement walls as we explain their origins, symptoms, and effective treatments.
What Are Wet Basement Walls? 
Wet basement walls arise when water permeates through the concrete confines of your basement, with moisture usually prominent along the middle and bottom segments of the walls.
If left unchecked, wet walls can spawn an array of complications, including:
Mold growth
Musty odors
Decay of wood and supporting structures
Infestations of pests
Damage to possessions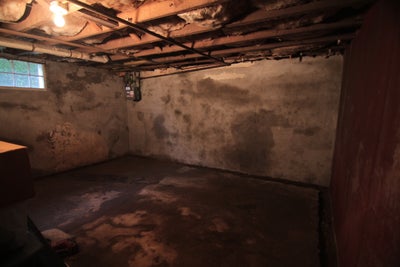 Ignoring wet basement walls is dangerous; addressing them is imperative to maintain a healthy, secure, and valuable residential environment.
The Causes of Wet Basement Walls 
Wet basement walls can originate from several sources, including:
Varying Weather Conditions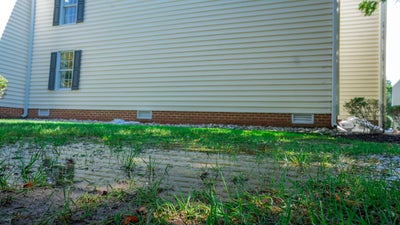 Northern Ohio has a humid continental climate with four distinct seasons. Diverse weather patterns include significant annual rainfall and snowfall, more than 40 inches of each type of precipitation. It's common for your property's soil to struggle to absorb above-average precipitation, especially if your home was built atop expansive clay-based soils. This leads to moisture accumulation near your basement, results in hydrostatic pressure, and facilitates water penetration through the walls.
Inadequate Drainage Systems 
Gutters and downspouts are the primary defenders against water accumulation. When damaged, they allow water to pool next to your home, seep into the soil, and infiltrate inside.
Compromised Footing Drains 
The footing drains around your basement's external perimeter can fail due to clogging or crushing, allowing dampness to seep through.
Excessive Hydrostatic Pressure and Cracked Walls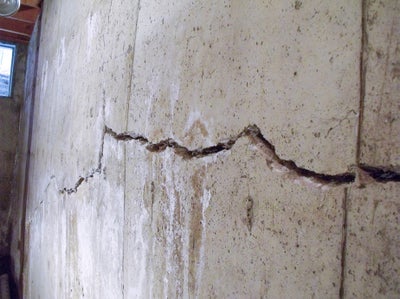 Saturated ground due to heavy precipitation or snowmelt exerts hydrostatic pressure against the walls, causing cracks and bowing, compromising structural stability, and leading to water leaks. 
Concrete Porosity 
The inherent porosity of concrete can allow water to infiltrate through minuscule openings, further deteriorated by subpar construction methods and aging materials.
Can You Fix Wet Basement Walls? 
Yes, damp basement walls are fixable.
Applying widely advertised "waterproof" products like paints and sealants is tempting, but these DIY methods do not address the root of the problem. Moisture continues to impact your basement, resulting in further damage and high repair costs.
Ohio Basement Systems employs comprehensive, customized basement waterproofing systems, to address the core issues and prevent future recurrences.
Fixing Wet Basement Walls: The Ohio Basement Systems Approach 
Ohio Basement Systems adopts the following procedure to rectify damp basement walls:
Diagnosis: Our experts first complete a free, thorough inspection to pinpoint the moisture source.
Interior Drainage Installation: A drainage system is placed along the internal perimeter to capture and redirect leakage to a sump pump.
Sump Pump Connection: A powerful sump pump system actively expels accumulated water from the basement.
Vapor Barrier Installation: A durable 12-mil vapor barrier affixed to basement walls prevents vapor intrusion.
Dehumidification: An eco-friendly dehumidifier controls humidity and enhances air quality.
Wall Reinforcement: We permanently reinforce compromised walls using advanced materials and techniques, including wall anchors, steel I-beams, or carbon fiber straps.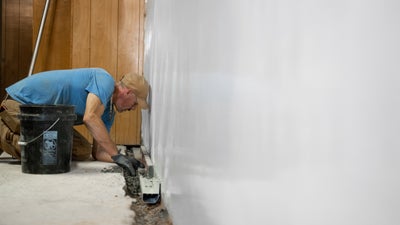 Address wet basement walls once and for all with proprietary solutions tailored to meet your home's needs.
Why Immediate Wet Basement Wall Repair is Crucial 
Promptly addressing damp basement walls is essential to:
Improve structural integrity
Avoid exorbitant repair costs
Mitigate health hazards
Deter pest infiltration
Enhance property value
With our proprietary, reliable products, Ohio Basement Systems is your partner in achieving a dry, secure basement, offering solutions unavailable at mainstream retail outlets.
Contact Ohio Basement Systems for Trusted Basement Waterproofing Solutions!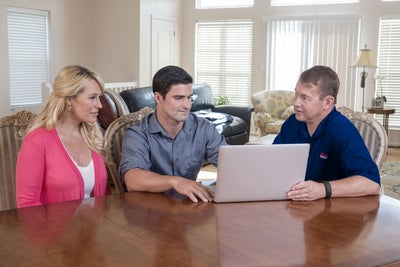 Don't allow minor basement problems to lead to significant damage. Contact Ohio Basement Systems for a complimentary, no-commitment inspection.
With our extensive industry experience, proven methodologies, and comprehensive solutions, we stand as the trusted ally for homeowners in Northern Ohio facing the menace of damp basement walls.
FAQs
While it is a common issue, it's not normal or healthy for basement walls to remain damp. It usually indicates underlying problems like poor drainage, leaks, or high humidity levels, which should be addressed promptly. Contact Ohio Basement Systems today to schedule a free inspection and no-obligation estimate. 
We recommend regular inspections, particularly during and after the rainy season or snowmelt. Immediate inspection is necessary if you notice any signs of moisture, mold, or a musty odor in the basement. Contact Ohio Basement Systems for clarity and a free inspection. 
Dehumidifiers assist in controlling humidity levels and preventing mold and mildew growth but will not solve the root problem of water seepage or leakage. For a permanent solution, it is crucial to identify and address the source of the moisture. Contact Ohio Basement Systems to book a free inspection. 
Publish Date:
Last Modified Date:
Explore more problem signs
Our Locations
Mansfield
1 Marion Ave, Suite 309
Mansfield, OH 44903
(567) 275-8588
Twinsburg
7950 Bavaria Rd.
Twinsburg, OH 44087
(330) 235-1229
Westlake
159 Crocker Park Blvd, 4th floor
Westlake, OH 44145
(330) 235-1229
Willowick
35475 Vine St, Suite 216,
Willowick, OH 44095
(440) 332-4339
Youngstown
8531 Market St.
Youngstown, OH 44512
(330) 400-3783