Concrete Pitting, Flaking & Staining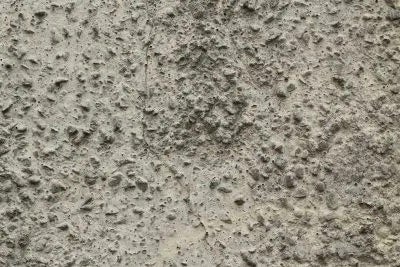 Homeowners take pride in their property's longevity and aesthetics, including concrete surfaces. However, concrete problems such as pitting, flaking, and staining can compromise appearance and structural integrity. These seemingly minor issues can indicate significant underlying problems that demand professional attention. 
As homeowners ourselves, our team at Ohio Basement Systems recognizes these challenges and provides dependable solutions that preserve your property's value and enhance its visual appeal. Our innovative SettleStop™ PolyRenewal™ concrete lifting system addresses root causes and prevents recurrence.
This page highlights concrete pitting, flaking, and staining issues, emphasizing the importance of professional repairs for your home's safety and longevity.
Understanding Concrete Pitting, Flaking, and Staining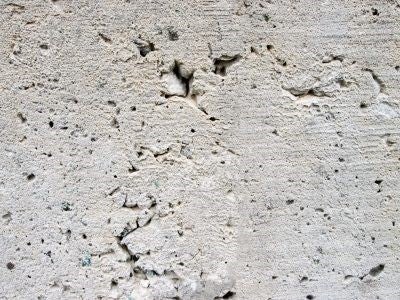 While concrete pitting, flaking, and staining may appear different, they share common underlying causes. 
Concrete Pitting 
Concrete pitting appears as tiny, uneven craters on a concrete surface, indicating internal structural weakness typically caused by errors during concrete production.
Concrete Flaking 
Concrete flaking, like pitting, manifests as sections of the concrete flaking off the surface. It is often caused by exposure to moisture and weather, which erodes the surface over time.
Concrete Staining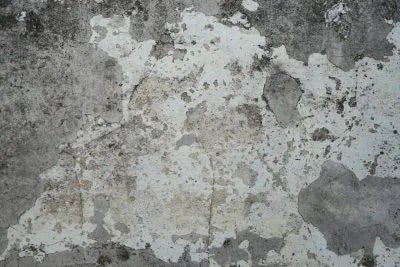 Concrete staining is caused by external agents like oil, chemicals, or mud, which can discolor and compromise the concrete's integrity.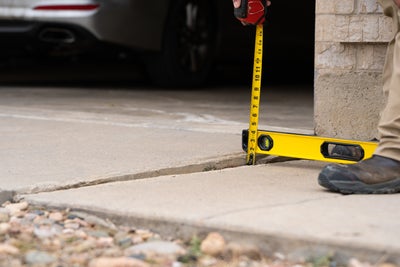 Though distinct, these issues signify compromised concrete that can worsen over time. They often accompany other damage like cracks and sinking and can affect various surfaces: 
Sidewalks
Driveways
Porches
Promptly repairing these issues is essential to avoid further concrete damage. Contact Ohio Basement Systems for an accurate assessment when you observe these problems.
Sources of Concrete Pitting, Flaking, and Staining 
Pitting, flaking, and staining signal compromised structural integrity within concrete, but their specific causes differ.
Causes of Concrete Pitting 
Concrete pitting arises from errors during mixing or curing, resulting in weak spots that collapse and form pits, typically surfacing around five years after concrete pouring.
Causes of Concrete Flaking 
Concrete flaking often occurs as concrete ages and endures exposure to elements, with moisture seeping in and reacting with the concrete surface. Nearby drainage elements, like downspouts and sprinklers, can contribute to flaking.
Causes of Concrete Staining 
Staining occurs when contaminants like oil or mud permeate the concrete or surrounding soil, altering its composition and causing discoloration.
Understanding and addressing these nuances promptly is crucial for effective, lasting repairs. Ohio Basement Systems offers tailored solutions for each type of damage's unique origin.
Fixing Concrete Pitting, Flaking, and Staining 
Problems like concrete pitting, flaking, and staining are fixable. However, embracing a comprehensive approach is crucial to guaranteeing long-term results.
Resolving these issues goes beyond surface-level repairs. Cosmetic remedies such as coating or patching deteriorated concrete provide only temporary relief. A comprehensive solution is needed to effectively address the underlying causes and prevent future occurrences.
To achieve concrete restoration with long-lasting results, you need products that uplift, strengthen, and fortify concrete from its core.
How Ohio Basement Systems Fixes Concrete Issues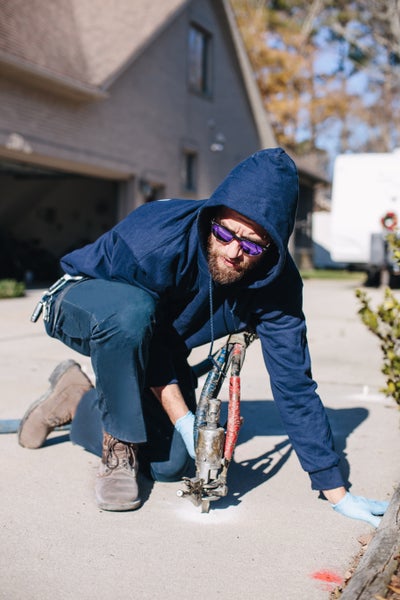 Ohio Basement Systems does not implement traditional methods like mudjacking, pouring, or patching. We instead use a unique approach, PolyRenewal™ polyurethane injections, to stabilize the underlying soil while lifting problematic concrete slabs. The process includes: 
Identifying the issue during a free, thorough inspection.
Drilling small holes into the concrete slabs.
Inserting injection ports into the holes.
Mixing a two-part closed-cell foam.
Injecting the high-density foam beneath the concrete.
Allowing the foam to expand and harden.
Ensuring the concrete is lifted and stabilized.
Removing the injection ports.
Filling and smoothing the drilled holes.
Sealing any cracks and joints to prevent further damage.
Consistent inspection and annual maintenance for longevity.
At Ohio Basement Systems, we don't take a one-size-fits-all approach. Our goal is to provide every homeowner with a customized repair solution for their unique needs.
Why Address Concrete Problems Now 
Taking prompt action to repair concrete issues is crucial for several reasons:
Prevention: Early intervention prevents more severe concrete damage.
Home Value: Maintaining concrete surfaces preserves your property's value.
Safety: Flaking and pitting can create tripping hazards.
Aesthetics: Pristine concrete enhances your property's curb appeal.
With Ohio Basement Systems, you can trust in long-lasting professional services. Our proprietary products guarantee superior results compared to off-the-shelf solutions.
Contact Ohio Basement Systems for Reliable Concrete Lifting Solutions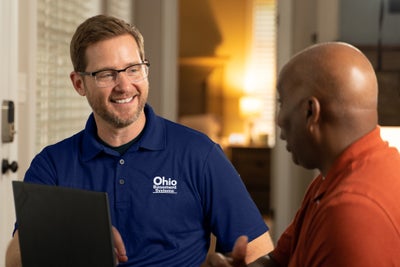 Concrete issues like pitting, flaking, and staining are unsightly and potentially hazardous. Avoid quick fixes and rely on Ohio Basement Systems for exceptional concrete lifting solutions. Contact us today to schedule a free, no-obligation inspection, and let us help restore your property's safety and beauty. 
Our expertise and proprietary products ensure long-lasting results. Homeowners in Northern Ohio have depended on us for more than 20 years to repair and protect their concrete. Choosing Ohio Basement Systems ensures the highest quality materials and workmanship.
FAQs
We recommend annual inspections, but any sudden changes in appearance should be addressed immediately. When you partner with Ohio Basement Systems for your home's concrete repair and protection, you can enroll in our annual maintenance programs to ensure lasting results. Contact us to learn more and schedule a free inspection.
Pitting may appear years after concrete pouring but tends to worsen rapidly, leading to cracks and holes. Quick action is essential. Contact Ohio Basement Systems for a free inspection and repair estimate when you notice issues with your concrete.
Oil drips can permeate concrete pores, causing dark stains as they react with the material. Implementing proper cleaning and sealing measures can help prevent this. Severe stains and exposure to harsh chemicals can weaken the structure, potentially leading to cracks and sinking. Ohio Basement Systems protects damaged concrete with our unique concrete lifting system. Contact us to learn more and to schedule a free inspection and estimate.
Publish Date:
Last Modified Date:
Explore more problem signs
Our Locations
Mansfield
1 Marion Ave, Suite 309
Mansfield, OH 44903
(567) 275-8588
Twinsburg
7950 Bavaria Rd.
Twinsburg, OH 44087
(330) 235-1229
Westlake
159 Crocker Park Blvd, 4th floor
Westlake, OH 44145
(330) 235-1229
Willowick
35475 Vine St, Suite 216,
Willowick, OH 44095
(440) 332-4339
Youngstown
8531 Market St.
Youngstown, OH 44512
(330) 400-3783