Cracked Concrete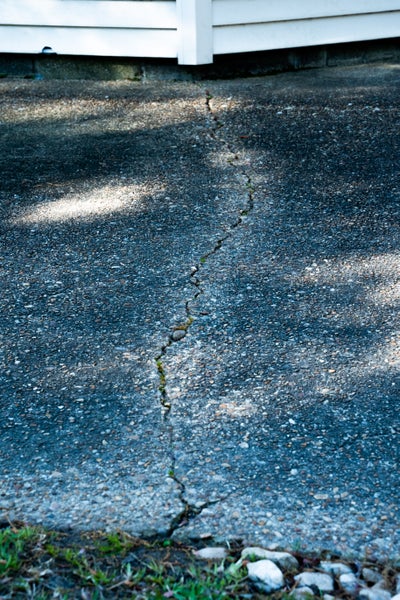 Despite its renowned durability, concrete is not immune to flaws.
Concrete, while known for its strength, can crack and deteriorate over time, impacting your home and family's safety. Cracked concrete detracts from your property's appearance and poses significant safety and structural risks.
At Ohio Basement Systems, we understand the gravity of these issues and provide efficient, effective solutions tailored to your specific needs.
Our specialized services and exclusive products include the cutting-edge SettleStop™ PolyRenewal™ polyurethane injections. This unique concrete lifting system delivers lasting, professional solutions to cracked concrete issues, ensuring the safety and longevity of your structures.
This page will teach you about the signs and causes of cracked concrete, and how Ohio Basement Systems' proprietary repairs can benefit your home.
What Is Cracked Concrete?
Cracked concrete refers to the development of lines, splits, or fractures in the concrete surfaces around your home. These can range from minor surface lines or hairline cracks to significant fractures that penetrate the concrete's depth, potentially compromising its structural integrity.
Cracks can appear on various concrete surfaces around your home, including: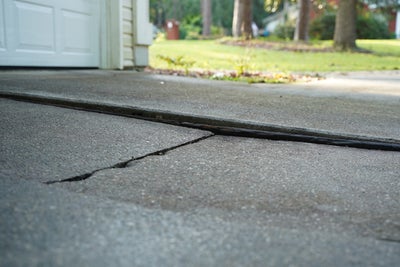 Driveways
Sidewalks
Steps
Patios
Porches
Pool decks
In addition to cracks, other forms of damage may occur, such as:
These issues affect your home's aesthetics and create safety hazards, demanding immediate attention and remediation. While delaying repairs might be tempting, swift action is essential to prevent further deterioration.
What Causes Cracked Concrete?
Cracked concrete can result from a variety of factors, including: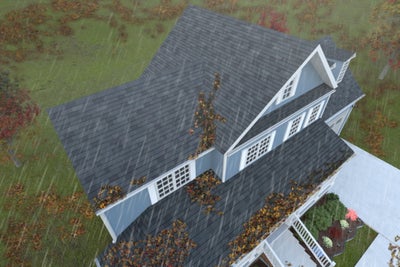 Soil Settling and Erosion: Shifting, erosion, or washout of the soil beneath concrete can lead to the sinking and instability of the concrete surface, resulting in uneven settlement and cracks. Dry soil lacks the necessary support for concrete.
Weather-Related Factors: Excessive rainfall, flooding, or snowmelt runoff can exacerbate soil erosion, particularly on properties with expansive clay-based soil. Freeze-thaw cycles lead to water within the concrete freezing, expanding, and ultimately causing cracks.
Tree Root Impact: The growth of tree roots beneath or in proximity to concrete slabs displaces underlying soil and can exert pressure on the concrete, resulting in cracks and upward movement.
Installation Challenges: Errors made during the concrete pouring or curing processes can introduce weaknesses, instability, and cracks into the structure.
These elements can severely damage the concrete and potentially impact your home's foundation. The combination of soil movement, external pressures, and weather conditions can lead to cracks, resulting in long-term structural and safety issues if left unaddressed.
Can You Fix Cracked Concrete?
Yes, cracked concrete can be fixed, but addressing the problem promptly is crucial. Significant damage limits repair options.
While quick fixes like sealing cracks or traditional methods like mudjacking may seem appealing, they don't address the root causes of concrete damage. Delayed repairs can lead to more severe damage, increased complexity, and higher costs.
Implementing a comprehensive solution to address underlying issues is vital. At Ohio Basement Systems, we provide holistic services and solutions beyond surface-level repairs, ensuring lasting results and preventing future occurrences.
We utilize state-of-the-art PolyRenewal™ polyurethane injection technology to lift and stabilize cracking and sinking exterior concrete surfaces. For homes with foundation problems, our experts may recommend solutions like foundation piers or slab piers, specifically designed to stabilize and potentially raise sinking slab foundations.
Every home is unique, so our team will evaluate your property to determine the best, long-term solutions.
How to Fix Cracked Concrete
Ohio Basement Systems' process for addressing cracked concrete involves: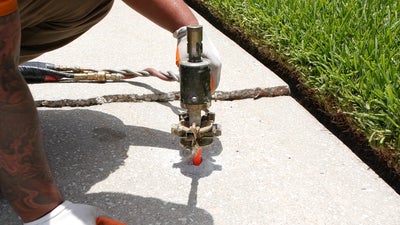 Thorough inspection to identify causes and determine repairs.
Drilling small, penny-sized holes into the affected concrete.
Placing injection ports in the holes.
Mixing the two-part, closed-cell polyurethane foam.
Injecting the foam under the concrete.
Monitoring the foam's expansion and the concrete's lift.
Allowing the foam to cure for 15 minutes.
Removing the injection ports.
Filling the drilled holes and ensuring a smooth finish.
Sealing cracks and joints for damage prevention.
Monitoring concrete surfaces during annual maintenance inspections for long-lasting protection.
We offer cutting-edge products that address your specific issues more effectively than alternative solutions. Our proprietary products, such as PolyRenewal™, provide precise concrete lifting, restoring the stability, safety, and appearance of your slabs.
Why Address Cracked Concrete Now
It is essential to repair cracked concrete immediately for several reasons:
Avoid Additional Damage: Delaying repairs allows water to infiltrate and widen cracks, accelerating deterioration, leading to more extensive problems. Quick action is essential to prevent further damage.
Prevent Foundation Issues: Settling soil beneath the steps often signifies potential foundation instability that requires immediate attention. Early repairs are vital to safeguarding your foundation from further harm.
Ensure Safety: Sinking and uneven stairs pose a significant risk of falls and injuries to you, your family, and guests. Concrete lifting rectifies tripping hazards and addresses structural instabilities, enhancing safety.
Enhance Property Value: Cracked concrete detracts from your home's aesthetic, negatively impacting its curb appeal. Trusted repairs help maintain and even enhance the visual and structural value of your property.
Lasting Solutions: Our concrete lifting repairs are protected by comprehensive warranties, providing you with peace of mind. By acting now to stop damage, you can prevent the need for more costly future repairs.
To fully resolve cracked concrete issues, trust Ohio Basement Systems and our advanced, proprietary solutions designed to deliver lasting results.
Contact Ohio Basement Systems for Reliable Concrete Lifting Solutions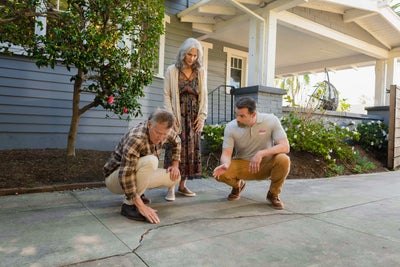 You no longer have to tolerate cracked concrete on your property. Rely on Ohio Basement Systems for effective, reliable concrete lifting solutions that protect your home's safety and value. Contact us today to schedule a free, no-obligation inspection and experience peace of mind with our professional, reliable services.
Our experts will inspect your cracked concrete to determine the root cause and engineer a customized solution. We offer long-lasting, warrantied concrete repairs that eliminate trip hazards, prevent further cracking, and restore the appearance of your concrete.
FAQs
Cracked concrete may indicate underlying foundation problems, which should be inspected and assessed by a professional. Ohio Basement Systems provides free home inspections, obligation-free estimates, transparent pricing, flexible payment plans, comprehensive repair solutions, and long-term warranties for your peace of mind. Contact us today to learn more.
We do not recommend DIY solutions like patching or filling cracked concrete or implementing repouring or mudjacking techniques. These temporary options quickly become time-consuming and expensive and fail to address the problem's source. Invest in professional concrete lifting services like those provided by Ohio Basement Systems. Contact us to learn more and schedule a free inspection and estimate.
Our versatile PolyRenewal™ concrete lifting system can be used on various concrete surfaces, from outdoor patios and driveways to garage floors and interior slab floors. Our foundation repairs are also tailored to your foundation type, whether it's a basement, crawl space, or slab. Contact Ohio Basement Systems to schedule a free inspection and estimate to determine the best repairs for your home. 
Publish Date:
Last Modified Date:
Explore more problem signs
Our Locations
Mansfield
1 Marion Ave, Suite 309
Mansfield, OH 44903
(567) 275-8588
Twinsburg
7950 Bavaria Rd.
Twinsburg, OH 44087
(330) 235-1229
Westlake
159 Crocker Park Blvd, 4th floor
Westlake, OH 44145
(330) 235-1229
Willowick
35475 Vine St, Suite 216,
Willowick, OH 44095
(440) 332-4339
Youngstown
8531 Market St.
Youngstown, OH 44512
(330) 400-3783