Pool Deck Repair 
A backyard swimming pool is a delightful escape, but an uneven, cracked concrete pool deck can turn it into a safety hazard.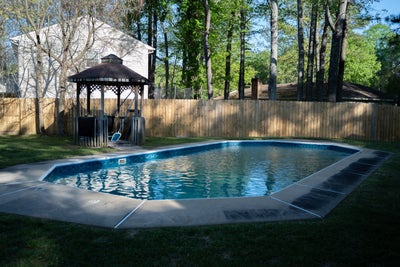 When cracks and sinking become an issue, trust Ohio Basement Systems to revitalize your pool deck using the innovative SettleStop™ PolyRenewal™ concrete lifting system. Lightweight, yet durable polyurethane foam is a modern and effective alternative that gently raises slabs and fortifies underlying soil for long-term protection.
This page provides valuable insights into concrete pool deck repair, highlighting its importance in preserving your property's value and ensuring safety.
What is Concrete Pool Deck Repair?
Concrete pool deck repair addresses issues such as cracks, sinking, and damage caused by unstable soil and excessive water saturation.
Traditional repair methods, like mudjacking or demolishing and repouring the concrete pool deck, are invasive, costly, time-consuming, and ineffective.
Concrete lifting is a more reliable repair solution. It involves injecting a specialized material beneath the concrete slabs to raise and stabilize them.
At Ohio Basement Systems, we utilize an advanced concrete lifting technique called PolyRenewal™, which delicately lifts settled sections of the pool deck and fills voids beneath it. This isn't just a standalone solution but an integral part of a comprehensive home repair strategy that protects your property from progressive damage and enhances its overall safety and value.
Signs Your Concrete Pool Deck Needs Repair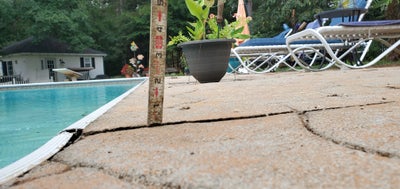 Recognize the early warning signs of concrete pool deck issues:
Gaps or pool deck cracks wider than ¼"
Multiple areas with significant cracking
Uneven or sinking concrete slabs
Trip hazards from uneven surfaces
Water pooling on the deck
Hollow sounds when walking on the concrete
Similar damage on patios, porches, steps, sidewalks, and driveways
Address these signs promptly to prevent extensive damage and ensure your home's safety and aesthetics. Don't hesitate to contact Ohio Basement Systems at the first sign of trouble.
Is Concrete Pool Deck Repair Necessary?
Yes, addressing problems with your concrete pool deck is imperative.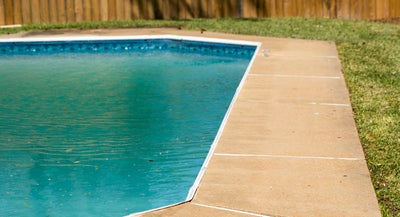 Failure to heed early warning signs, such as small cracks or sinking areas, can escalate damage. This poses heightened safety risks, inevitably leading to higher repair costs and limited solutions in the future.
Exercise caution when considering alternatives like repouring, mudjacking, or off-the-shelf quick fixes, as they typically offer only temporary solutions that fail to tackle the underlying cause.
Opting for early repairs with Ohio Basement Systems resolves the immediate problem and contributes holistically to the overall well-being and integrity of your home.
What Are the Benefits of Concrete Pool Deck Repair?
Concrete pool deck repair provides many benefits for you and your property:
Safer Environment
Addressing cracks and uneven areas on your pool deck significantly minimizes safety hazards, creating a worry-free environment for you and your family to enjoy. You'll gain peace of mind knowing the surface is secure.
Prevent Additional Damage
Proper concrete repair prevents minor issues from evolving into major problems and halts the spread of damage to other areas of your home.
Improved Appearance
Elevating settled sections and sealing cracks improves your pool deck's aesthetic appeal and enhances your home's overall appearance. You'll regain the pleasure of enjoying an attractive outdoor living space.
Enhanced Property Value
An uneven or cracking concrete deck can diminish your home's value. Undertaking necessary repairs and maintaining your pool deck protects and enhances the value of your investment.
Harness these advantages by leveraging Ohio Basement Systems' exclusive PolyRenewal™ system. This innovative technology offers a more durable, efficient, and eco-friendly solution compared to other alternatives.
How We Install Concrete Pool Deck Repair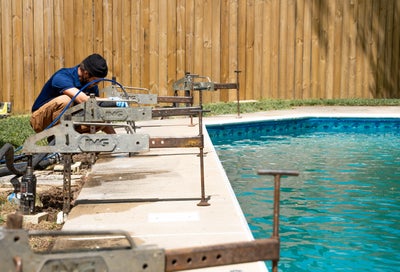 Our team follows a precise installation process, which includes these essential steps:
Evaluate and map out the affected pool deck areas.
Drill small holes (the size of a penny) into the concrete.
Insert injection ports in the drilled holes.
Mix the proprietary closed-cell foam.
Inject foam under the concrete pool deck.
Allow the foam to fill the voids.
Confirm the foam cures (approximately 15 minutes) for precise concrete lifting and soil stabilization.
Remove the injection ports and repair the drilled holes.
Apply a protective sealant to cracks and joints.
Ensure continued protection with annual maintenance inspections.
Trust Northern Ohio's experts for superior concrete pool deck repair. We guarantee flawless installation and lasting results with our renowned PolyRenewal™ system.
Why Choose Our Pool Deck Repair?
Ohio Basement Systems' PolyRenewal™ concrete lifting system stands out as the premier choice for concrete pool deck repair, for several reasons:
Accuracy: The PolyRenewal™ system excels in precision, offering unparalleled accuracy in lifting and stabilizing concrete surfaces.
Minimally Invasive: Our system eliminates the need for heavy machinery and extensive excavation, making it a less intrusive solution for concrete pool deck repair.
Light Materials: Our foam is remarkably lighter than alternative materials used in concrete repair or mudjacking, making it an efficient and practical choice.
Quick-Curing: With a rapid 15-minute curing time, our system minimizes disruption, allowing you to return to your daily routine quickly.
Resiliency: PolyRenewal™ can withstand environmental pressures, remaining durable and reliable long-term.
Versatility: This innovative system can be applied to a range of concrete surfaces, ensuring its adaptability to various repair needs.
Eco-Friendly: Crafted from non-toxic, environmentally friendly, and enduring resources, our system supports sustainability goals.
Subtle: The virtually invisible repairs seamlessly blend with the surrounding area, enhancing the aesthetic appeal of your space.
Maintenance Protection: Our annual maintenance plans provide peace of mind by guaranteeing long-lasting quality and ongoing support.
Contact Ohio Basement Systems for Concrete Pool Deck Repair Today!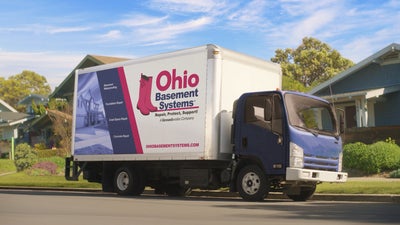 Don't delay addressing issues with your cracked, settled, or uneven concrete pool deck. Take the proactive step of enhancing safety and aesthetics by trusting Ohio Basement Systems' tried-and-true concrete pool deck repair services. Our skilled experts can swiftly rejuvenate your pool deck, restoring its beauty and ensuring safe functionality.
Contact Ohio Basement Systems today to book a free inspection and no-obligation estimate. We proudly serve homeowners across Northern Ohio who are determined to rectify and prevent concrete damage. With more than 20 years of experience, we stand as the foremost authority in the region regarding concrete repair solutions.
FAQs
PolyRenewal™ cures in 15 minutes, allowing us to complete the installation in about a day. That means you can return to using your pool and pool deck on the same day as the installation. Outdated repair methods like mudjacking and repouring take much longer to cure, rendering your pool deck unusable. To learn more about our installation process, contact Ohio Basement Systems for a free inspection and estimate.
Costs vary based on the size and the severity of damage. Ohio Basement Systems' PolyRenewal™ offers an economical solution. Contact us for a free inspection and no-obligation estimate, and to learn about our transparent pricing and financing options.
Publish Date:
Last Modified Date:
Our Locations
Mansfield
1 Marion Ave, Suite 309
Mansfield, OH 44903
(567) 275-8588
Twinsburg
7950 Bavaria Rd.
Twinsburg, OH 44087
(330) 235-1229
Westlake
159 Crocker Park Blvd, 4th floor
Westlake, OH 44145
(330) 235-1229
Willowick
35475 Vine St, Suite 216,
Willowick, OH 44095
(440) 332-4339
Youngstown
8531 Market St.
Youngstown, OH 44512
(330) 400-3783