Bowing Basement Wall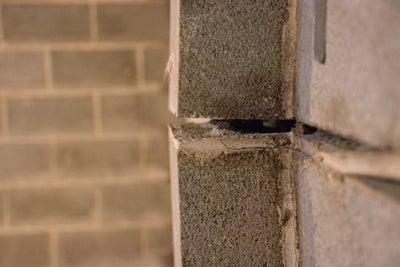 If basement walls show any signs of damage—including inward bowing—this is not just concerning but also dangerous. This common but deadly problem can lead to other issues, such as water intrusion and an unstable foundation.
At Ohio Basement Systems, we recognize that bowing walls signify critical structural problems and safety hazards that require urgent basement repair solutions.
With this guide, you'll understand how to tackle bowing basement walls and preserve your home's value and structural integrity.
What Are Bowing Basement Walls? 
Most basements are built below ground level, leaving the walls vulnerable to various forms of damage, including bowing. This inward bulging is most visible in the middle of the wall.
Additional signs that your basement walls are bowing include:
Horizontal cracks along the wall
Stair-step cracks in block walls
Diagonal cracks at the corners of poured concrete walls
What Causes Bowing Basement Walls? 
Several elements contribute to the abnormal inward curvature of basement walls. Some of these are:
Inadequate Drainage and Water Management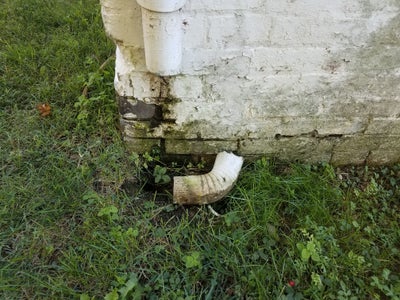 Northern Ohio's humid continental climate exposes us to significant precipitation. Effective drainage systems like gutters, downspouts, and extensions are essential to manage water effectively. Inadequate drainage causes excessive moisture to saturate the soil, exerting additional pressure around the walls.
Soil and Hydrostatic Pressure 
Many locales throughout Northern Ohio experience significant precipitation—more than 40 inches of rain and 40 inches of snow on average each year. Certain soil types, such as clay—prevalent in Ohio—expand and contract more than other soils as moisture levels change. This expansion, also known as hydrostatic pressure, stresses the walls, causing them to crack and bow inward.
Freeze and Thaw Cycles 
Seasonal temperature fluctuations can also affect your basement walls. Frigid and snowy winters, followed by the warming and melting of spring, also stress basement walls. When water in and around the walls freezes and thaws, it places additional pressure, leading to bowing and cracking.
Foundation Movement and Settlement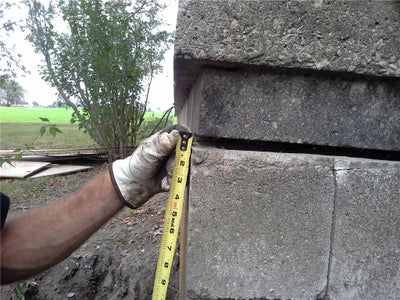 As seen here, your home's foundation can shift and settle due to soil and other environmental factors, resulting in visible exterior damage. These problems can also contribute to basement wall bowing, distorting the walls and rendering them unstable.
Substandard Construction 
In rare instances, construction errors occur. These issues include using low-quality materials or omitting crucial steps in preparation, making walls more susceptible to bowing.
Can You Fix Bowing Basement Walls? 
Yes, most bowing basement walls can be remedied. Identifying the underlying causes is crucial for effective treatment and prevention of further damage. Rely on the experts at Ohio Basement Systems to diagnose and provide tailored solutions for your specific needs.
How to Repair Bowing Basement Walls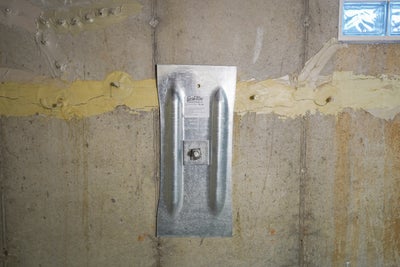 To reinstate structural integrity, various reinforcement and repair techniques are available:
Carbon Fiber Reinforcement: Our low-profile carbon fiber straps are bonded to wall surfaces to counteract bowing and hold the wall in its current position.
Steel Beams: Our IntelliBrace™ system uses adjustable steel I-beams to stabilize bowing sections and alleviate wall pressure. The beams can be adjusted at intervals to repair the wall over time.
Wall Anchors: Steel wall anchors bolt from the inside and secure to stable soil outside, countering inward bowing. They can also be adjusted to gradually improve the wall.
Also, effective moisture management can help protect your basement walls. This involves:
Ohio Basement Systems uses superior-quality materials and approaches to tackle the root causes of wall bowing.
Why Repair Bowing Basement Walls Now? 
Delaying repairs will only make matters worse. Here's how:
With time, bowing intensifies due to increasing soil pressure and water damage.
Cracks expand, enabling more water to intrude and cause further deterioration of the walls.
Buckling walls cannot adequately support the home's structure and the floors above.
Severe bowing can result in disastrous wall failure and potential collapse.
As walls progressively deform, repairs become significantly more invasive and expensive.
At Ohio Basement Systems, we provide detailed evaluations and specialized solutions for homeowners facing bowing basement walls, effectively eliminating and preventing future issues.
Trust Ohio Basement Systems for Durable Solutions 
Don't let bowing walls jeopardize your home's safety and value. Watch out for signs of trouble and reach out to the best in the business for assistance.
Ohio Basement Systems has been repairing bowing basement walls for more than 20 years. Local homeowners know they can count on our years of experience, cutting-edge diagnostic tools, and top-notch reinforcement techniques. Contact us today to book a free inspection and estimate.
FAQs
While some temporary DIY solutions are available, consulting professionals like Ohio Basement Systems is highly recommended. Our expertise and specialized solutions ensure a long-lasting and effective repair that addresses the root cause of the problem.
The cost of repairing bowing basement walls depends on several factors, such as the severity of the bowing and the chosen repair method. Ohio Basement Systems provides free inspections and estimates and financing options, allowing you to understand the scope of work and associated costs before making any decisions.
Coverage for repairing bowing basement walls may vary depending on your insurance policy and the specific circumstances. Check with your insurance provider to understand what is covered. Ohio Basement Systems also provides insurance claim documentation if needed.