Cracks in Basement Floor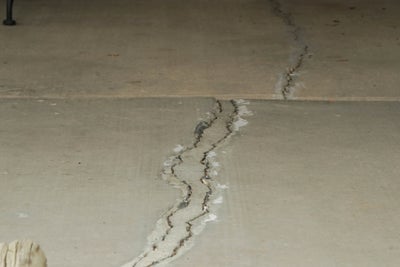 If your basement floor appears to have weathered an earthquake, it's time to take action.
Cracks in the concrete are a problem that should be addressed. When overlooked, cracks in basement floors allow moisture intrusion and jeopardize the structural stability of your foundation.
At Ohio Basement Systems, we have the tools and expertise to properly address these cracks. Homeowners in Northern Ohio have trusted our basement repair, basement waterproofing, foundation repair, and other solutions for more than 20 years.
After reading this page, you'll understand why floor cracks occur and how to permanently stop them.
What Are Cracks in a Basement Floor?
Basement floor cracks constitute any separation, breach, or break in the concrete flooring. These cracks often emerge when outside forces and pressures push the concrete out of alignment.
While not all cracks mean disaster for your basement or foundation, addressing them quickly is wise to prevent water intrusion and further cracking.
Why Do Cracks in Basement Floors Occur?
There are several culprits behind basement floor cracks.
During an inspection, our seasoned team will identify these causes, such as: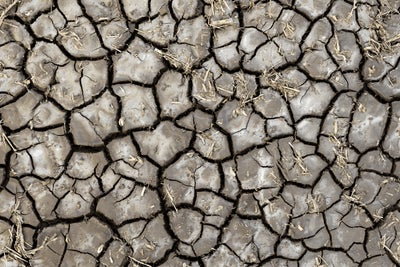 Concrete Shrinkage: New concrete can shrink as it cures. Uneven shrinkage results in cracks. Though usually narrow, these cracks enable water entry if they extend deep enough.
Heavy Loads: Storing heavy items in the basement can overload the floor, resulting in cracks, especially if not built to handle such weights.
Soil Movement: Over time, the soil beneath your home may shift due to moisture changes, causing cracks as the foundation settles. For example, rain can erode soil, leading to basement settling and floor cracks from the movement.
Expansive Soils: Certain soils—especially clay-based soils—expand and contract as they become wet or dry out, as seen here. This cyclic expansion and contraction can crack basement floors.
Hydrostatic Pressure: Water beneath the basement exerts upward pressure, widening cracks over time as water infiltrates. This moisture deteriorates concrete and expands cracks.
Pinpointing the cause of your basement floor cracks is key in choosing the right repairs. Ohio Basement Systems provides tailored solutions that address these underlying problems.
Can Cracks in Basement Floors Be Fixed?
Absolutely! Today's basement and foundation repair methods mean you don't have to replace the entire basement floor when cracks appear.
Remember that floor cracks vary in position, nature, pattern, and size, dictating their severity and repair needs. Our comprehensive inspection process ensures your basement cracks receive the proper fix.
How to Repair Basement Floor Cracks
Ohio Basement Systems' approach is trusted by countless homeowners throughout Northern Ohio. Ohio Basement Systems sets itself apart through steadfast attention to detail and efficiency. Here's what we do: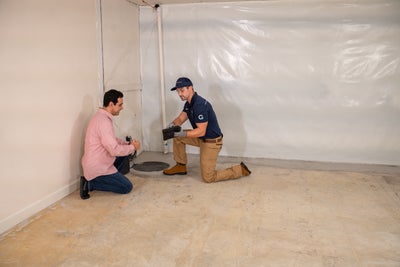 Thorough Assessment
We meticulously inspect every crack, noting its location, length, pattern, and width. This helps determine if factors like ground movement, water pressure, or heavy loads are to blame. We also examine soil conditions and the overall foundation state.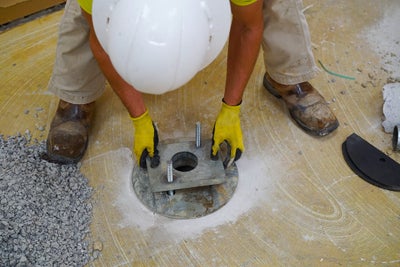 Stabilize with Pier Systems
When a basement floor sinks or becomes uneven due to shifting ground, foundation piers are driven into bedrock and positioned to transfer floor weight from unstable soil to sturdy piers. Once anchored, the piers lift and level the floor, ensuring long-term stability.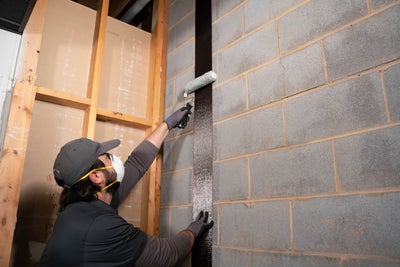 Wall Repair
Floor cracks originate from the same factors that cause basement wall cracks. In such cases, wall repair should also be considered. We install carbon fiber straps, wall anchors, and steel I-beams to handle heavy loads, prevent moisture damage, and ease stress.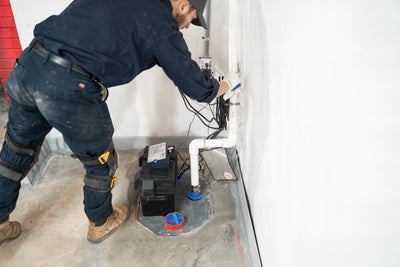 Interior Drainage
To defend against hydrostatic pressure and divert any moisture through cracks, we install an interior drainage system coupled with a sump pump to continuously channel water away from the basement.
Our solutions are top-tier and tailored to your basement's unique needs. Our extensive experience ensures your basement floor's longevity.
Act Quickly on Floor Cracks
We recommend fixing floor cracks before minor issues escalate into major foundation problems. Here's why you shouldn't wait:
Cracks can rapidly expand from constant pressure. More significant cracks allow excess water intrusion, potentially causing mold and erosion.
Disregarding cracks may lead to sinking floors and structural deterioration. The longer you wait, the costlier the repair, especially with added water damage.
Your foundation's health means your home's stability. Don't ignore signs like floor cracks.
Ohio Basement Systems provides swift, thorough solutions that reinforce your entire basement for the long term.
Trust the Experts at Ohio Basement Systems for Floor Crack Solutions
If your basement has floor cracks, it's time to call in the experts. Avoid the risks of foundation instability and water damage.
At Ohio Basement Systems, we use quality materials and techniques to repair existing cracks and strengthen your basement. Contact us for a free inspection and ensure your basement stands strong for years to come. Get comprehensive solutions from Ohio's basement repair leaders.
FAQs
Not necessarily, but it's wise to contact a professional to inspect any cracks as soon as possible. Even hairline cracks can enable water intrusion over time, leading to bigger issues.
Sealing cracks is usually just a temporary fix. For a permanent solution, the root cause of the cracks must be addressed, or else they will likely reappear. Our experts will determine the source during inspection.
Repair costs depend on crack severity, needed repairs, and other factors. After an inspection, we provide a detailed estimate outlining the recommended solutions and pricing with no obligations.
Publish Date:
Last Modified Date:
Explore more problem signs
Our Locations
Mansfield
1 Marion Ave, Suite 309
Mansfield, OH 44903
(567) 275-8588
Twinsburg
7950 Bavaria Rd.
Twinsburg, OH 44087
(330) 235-1229
Westlake
159 Crocker Park Blvd, 4th floor
Westlake, OH 44145
(330) 235-1229
Willowick
35475 Vine St, Suite 216,
Willowick, OH 44095
(440) 332-4339
Youngstown
8531 Market St.
Youngstown, OH 44512
(330) 400-3783