Drywall Nail Pops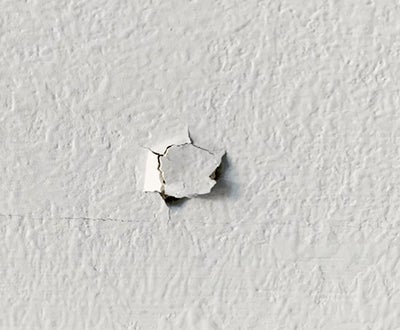 If you see small, round holes in the drywall of your living space or upstairs, they may be caused by protruding nails. Although it may seem like a minor cosmetic problem, it could be a sign of foundation settlement, which is a serious issue.
Ohio Basement Systems specializes in providing sustainable foundation repair solutions for issues affecting the overall structure of your home. We don't just mask the symptom; we address the underlying cause.
What Are Drywall Nail Pops?
Drywall nail pops are small, circular blemishes in drywall caused by the nail head puncturing through the paint and drywall. They may seem like minor aesthetic issues, but they are often indicators of more serious underlying problems.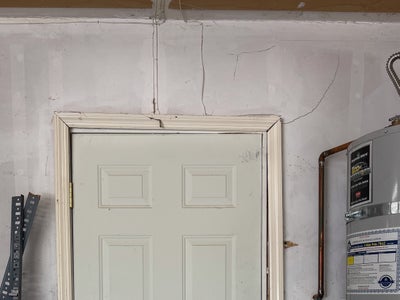 Drywall nail pops often occur with other signs of foundation issues (as shown here), including:
Drywall cracks
Gaps between walls and floors
Ohio Basement Systems provides foundation stabilization solutions that address underlying problems, not just cosmetic drywall concerns.
Why Your Home Has Drywall Nail Pops
Drywall nail pops occur for various reasons, including:
Foundation Settlement
Drywall nail pops typically result from uneven foundation settlement, which occurs when a home's foundation settles unevenly. This happens due to expanding soil, shrinking soil, poor drainage, or construction errors. As the foundation settles, it displaces the walls from their alignment, stressing the drywall and causing nail pops.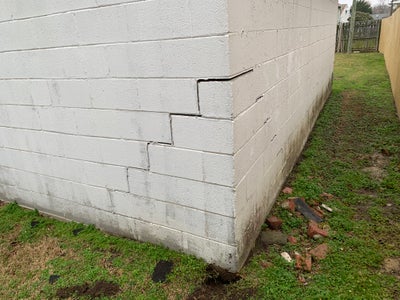 Cheap Building Materials
Contractors may sometimes use lower-grade drywall or nails more prone to popping, worsening the problem. Nail pops can also be caused by seasonal changes and the natural aging of a home. One possible solution to prevent drywall nail pops is to use higher-quality building materials.
Natural Shrinkage
Wood framing in new homes slightly shrinks as it dries out over the first few years. This natural process will exert pressure on nails, causing drywall nail pops. It is crucial to address the root cause, which is usually foundation settlement, to ensure the long-term structural health of your home.
Can You Fix Drywall Nail Pops?
Absolutely! Drywall nail pops can be repaired with confidence. Although drywall patching can address the issue in the short term, nail pops will likely return as the foundation settles.
We believe in addressing the underlying issues that cause drywall nail pops and not just the cosmetic appearance. Ohio Basement Systems offers comprehensive solutions that utilize a whole-home approach to effectively and permanently resolve this issue.
Our team identifies the root cause and provides customizable solutions to meet your home's specific needs. You can trust Ohio Basement Systems to provide a confident, long-lasting fix for your drywall nail pops.
How to Fix Drywall Nail Pops
Ohio homeowners rely on us for basement repairs thanks to our commitment to excellence and attention to detail. Here's how we work: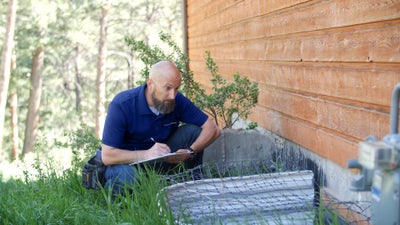 Thorough Foundation Inspection
We inspect your home inside and out to identify foundation settlement. Then, we recommend repair solutions tailored to your home.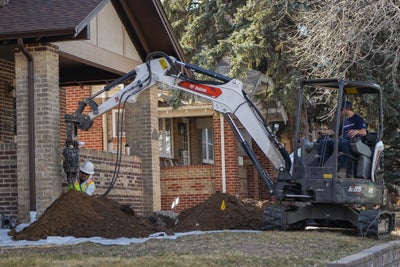 Stabilize the Foundation
We install foundation piers deep into the ground to reach more stable soil. We have three types of piers, each with a unique installation procedure. They all function similarly to permanently stabilize and potentially elevate a settling foundation.
Push Piers: Push piers are advanced manually into the underlying soil until they reach the appropriate depths. They expertly use the home's weight to counteract damaging forces, skillfully transferring the load to stable soil or bedrock.
Helical Piers: Screw-like helical piers can be installed beneath a foundation using hydraulic power. These piers bite into the soil and anchor onto bedrock or stable, load-bearing strata. They work well for supporting lighter structures.
Slab Piers: Steel piers are installed beneath homes with slab foundations to strengthen the concrete and, if necessary, raise it.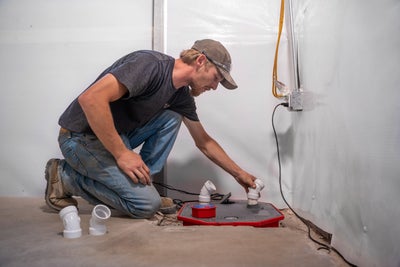 Manage Moisture
Moisture significantly contributes to foundation settlement, so managing its presence in your home is crucial. We install basement waterproofing solutions such as interior drainage, sump pumps, and crawl space encapsulation essentials like vapor barriers.
Ohio Basement Systems has our own line of products designed to fit your home's specific requirements. These products provide long-lasting results that are better than generic solutions.
Why Address the Nail Pop Issues Now
Take prompt action to maintain a safe and healthy home. Drywall nail pops and other damage can quickly escalate, leading to additional problems that endanger your home's structural integrity and your family's well-being. Here's why you should act confidently and without delay:
Prevent Further Damage: Neglecting drywall nail pops will only worsen foundation issues, causing additional problems such as sticking doors and windows.
Preserve Home Value: Addressing foundational problems promptly is key to maintaining your home's market value.
Ensure Safety: Settling foundations compromises the structural integrity of your home. Swift repairs will protect your home and family.
Avoid Expensive Repairs: Repairs are generally more manageable and less expensive the sooner you notice and fix the problem.
At Ohio Basement Systems, we offer proprietary solutions that provide more effective, long-lasting results than those from a big box store. You can rely on our expertise to get the job done right.
Contact Ohio Basement Systems for Foundation Stabilization Solutions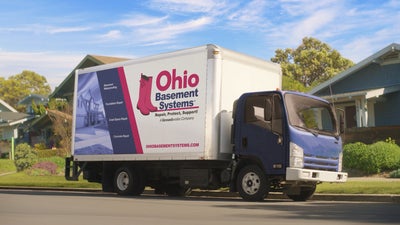 While drywall nail pops may appear a minor inconvenience, they often signal underlying foundation settlement, which can escalate if not promptly addressed. Contact Ohio Basement Systems today for a free, no-obligation inspection and repair estimate.
Ohio Basement Systems provides advanced foundation repair solutions that effectively stabilize settling foundations and eliminate drywall nail pops. Our support systems are tailored to meet the specific needs of your home and come with long-term warranties to ensure your peace of mind.
FAQs
For minor drywall nail pops, homeowners can DIY repairs. However, if the problem is significant or recurring, hiring professionals like Ohio Basement Systems is best. We have the expertise to assess the underlying causes and provide lasting solutions.
Drywall patching kits are cheap and easy to apply, but they only address the cosmetic issue caused by foundation settlement. To solve the root problem, it's best to have foundation piers professionally installed. The repair costs depend on the extent of the damage and the number of piers needed. Contact Ohio Basement Systems for a free inspection, accurate price breakdown, and financing options.
Installation time depends on foundation issues' severity, pier type, and quantity. Typically, installation requires a few days to a week. For customized solutions and a specific timeline, contact Ohio Basement Systems.