Wall Shearing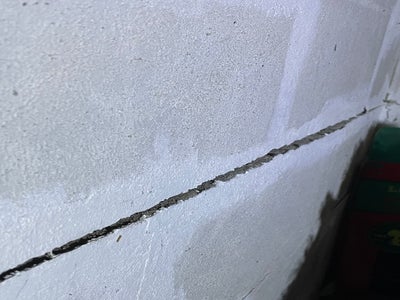 Basement walls should maintain a straight and well-supported appearance. They shouldn't exhibit signs of inward bowing or shearing. While some wall damage may appear ordinary, neglecting wall shearing could jeopardize your basement's structural integrity and lead to water-related concerns.
Ohio Basement Systems streamlines the process of addressing these issues. With more than 20 years of experience in the industry, homeowners throughout Northern Ohio know they can trust us for proven basement repair solutions and unmatched customer care.
This page provides information to empower you to take the next steps if your basement exhibits signs of wall shearing. 
Understanding Basement Wall Shearing 
Basement wall shearing occurs when walls shift or move horizontally, often due to external soil pressure. The phenomenon is chiefly influenced by factors such as soil weight, moisture levels, and the soil's expansive qualities.
While shearing doesn't necessarily signal foundation failure, it demands prompt attention to prevent further deterioration and moisture intrusion. The extent and location of the shearing dictate its seriousness and guide the appropriate repair techniques.
Our thorough evaluation process examines all manifestations of shearing to recommend the most suitable interventions. 
The Causes of Basement Wall Shearing 
Several factors contribute to the development and progression of wall shearing. Our experts will illuminate these factors during inspections to empower homeowners to identify them.
Fluctuating Soil Volume: The soil surrounding your basement undergoes volume changes with shifts in moisture. Expansion during wet spells, as seen here, and contraction during dry periods exude pressure on basement walls, leading to shearing.
Hydrostatic Pressure: Following heavy rainfall or significant springtime snowmelt, accumulation of subterranean water exerts significant pressure against basement walls. This is known as hydrostatic pressure, and it creates the ideal conditions for shearing.
Frost Heave: During cold Northern Ohio winters, freezing moisture in the soil results in an upward force known as frost heave. This force can press against basement walls, increasing the potential for shearing.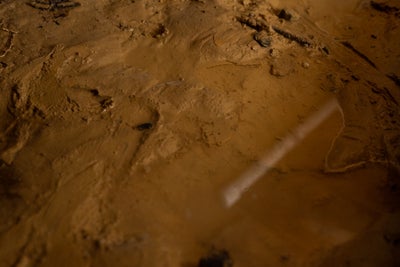 Can Basement Wall Shearing Be Fixed? 
Yes, basement walls damaged by shearing can be repaired. Modern basement and foundation repair techniques mean you don't need a complete basement overhaul due to wall shearing.
With professional assistance, you can reinforce affected areas and prevent further issues.
Ohio Basement Systems employs various reinforcement methods to combat the recurrence of wall shearing. Our guaranteed solutions ensure a stable, secure, and moisture-free basement for years to come.
Our Approach to Addressing Wall Shearing 
Our well-established process has gained the trust of numerous homeowners in the region, thanks to our commitment to detail, efficiency, and excellence. Here's how we approach it: 
Comprehensive Inspection 
Our team identifies all instances of wall shearing, noting locations, severity, and patterns. A thorough assessment helps pinpoint primary factors like hydrostatic pressure, ground movement, frost heave, or expanding soils.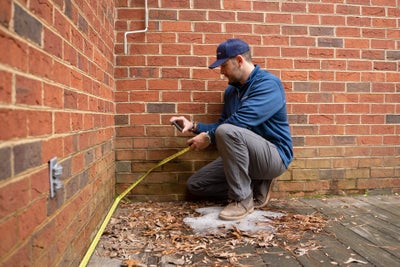 Reinforce Basement Walls
We use appropriate reinforcement measures to strengthen areas susceptible to wall shearing, including: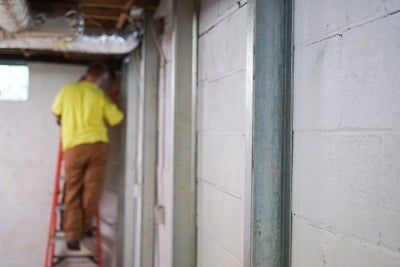 Install Water Management Solutions 
We implement comprehensive basement waterproofing solutions to combat moisture intrusion and hydrostatic pressure. Together, these products actively collect and remove water, and prevent further moisture issues: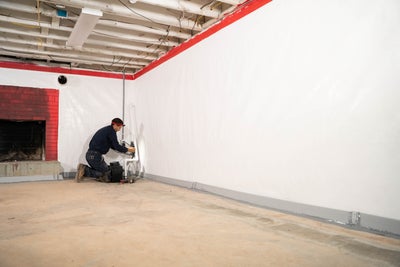 Why Immediate Action is Critical
Delaying action can exacerbate wall shearing and result in higher repair costs over time. Swift intervention ensures:
Prevention of severe structural damage
Reduced risk of water infiltration, mold growth, and exterior soil erosion
Avoidance of floor settling or compromised structural support
Cost savings by addressing widespread damage and related water issues proactively
By working with Ohio Basement Systems, you're opting for comprehensive, tailored solutions that address the root of the problem, strengthening your basement walls against future challenges. 
Contact Ohio Basement Systems for Expert Solutions 
If you observe signs of wall shearing or other damage in your basement, prompt action is essential to prevent foundation instability and costly repairs. Ohio Basement Systems specializes in industry-leading techniques to rectify existing issues and fortify your basement.
We offer free, thorough basement inspections, so don't hesitate to contact our team to schedule your appointment. Your home deserves more than a quick fix. Address basement and foundation challenges with the experts at Ohio Basement Systems. 
FAQs
Ignoring wall shearing leads to safety hazards for your family, including severe structural damage, increased water infiltration, compromised supports, and higher long-term repair expenses. Contact Ohio Basement Systems for a free inspection and lasting repairs that ensure your home's safety. 
We do not recommend attempting to fix basement wall shearing on your own. Professional expertise and specialized techniques are required to effectively address the underlying causes and ensure the stability of the basement and foundation. 
The cost of fixing basement wall shearing varies depending on the extent of the damage and the chosen repair method. Ohio Basement Authority provides free inspections and estimates to assess the situation and provide an accurate cost estimate. 
Publish Date:
Last Modified Date:
Explore more problem signs
Our Locations
Mansfield
1 Marion Ave, Suite 309
Mansfield, OH 44903
(567) 275-8588
Twinsburg
7950 Bavaria Rd.
Twinsburg, OH 44087
(330) 235-1229
Westlake
159 Crocker Park Blvd, 4th floor
Westlake, OH 44145
(330) 235-1229
Willowick
35475 Vine St, Suite 216,
Willowick, OH 44095
(440) 332-4339
Youngstown
8531 Market St.
Youngstown, OH 44512
(330) 400-3783