Wall Anchors
Is your basement showing signs of damage like cracking and inwardly bowing walls? Such problems suggest your walls require additional support.
With Ohio Basement Systems' dependable wall anchor system, you can stabilize your basement walls, ensure your home's structural integrity, and prevent further issues.
We offer durable basement repair services that include the installation of wall anchors to permanently brace weakened walls. Our wall anchors are designed to grip stable soil, cease wall movement, and potentially straighten your walls over time.
Act now to reinforce your home's basement and avoid the costly prospect of a full replacement.
What are Wall Anchors? 
Wall anchors are steel components anchored into the ground outside of the basement walls. A wall anchor system includes three major pieces:
Interior anchor plates secured to basement walls
Exterior earth anchors embedded in stable soil
Steel rods connecting these brackets
Wall anchors extend into the soil beyond the disturbed area near the foundation, providing crucial reinforcement. They also halt lateral movement to further stabilize the wall when periodically tightened by professionals.
Signs You Need Wall Anchors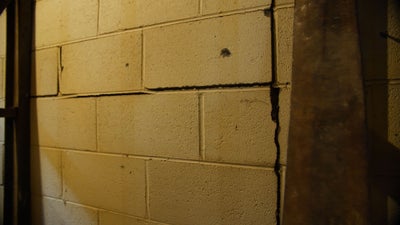 You should consider wall anchors for your home if you notice:
Basement Wall Cracks: Horizontal or stair-step wall cracks indicate shifting walls.
Bowing Walls: Walls that bow or tilt inwards require reinforcement.
Basement Moisture: Seepage or dampness lead to mold and structural damage.
Musty Odors: Unpleasant smells suggest water intrusion and mold growth.
You can prevent further damage by installing wall anchors at these early warning signs.
Is a Wall Anchor System Necessary? 
Proactively stabilizing your walls with a wall anchor system is essential. Further movement or neglect can result in leaks, mold growth, and even catastrophic structural failure. Implementing wall anchors in conjunction with a comprehensive basement repair strategy is advisable, particularly for concrete block or poured basement walls showing signs of wear.
However, sometimes property lines and the lack of exterior space prohibit wall anchor installation. We offer other solutions, such as an adjustable steel I-beam system, that are installed completely in your basement and do not require exterior digging. Contact us today for a free assessment and repairs tailored to your needs.
How We Install Wall Anchors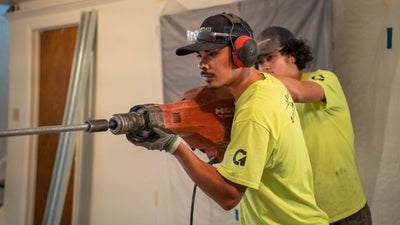 Our certified process follows these steps:
Exterior excavation for earth anchors (at least 10 feet away from basement walls)
Drilling holes for the anchor rods into stable soil 
Driving the anchor rods hydraulically until resistance is met 
Embedding earth anchors in exterior soil 
Attaching wall plates to the interior walls 
Connecting the rods to the wall and earth anchors 
Backfilling the excavated area 
Periodically tightening anchors to potentially improve walls 
Benefits of Ohio Basement Systems Wall Anchors 
Our wall anchor systems offer the following:
Halting of lateral wall shifts and the stabilization of failing basement walls
Stabilizing and potentially straightening bowing or cracking walls
Transferring foundation pressure to stable soil
Preventing further widening of existing cracks
Cost-effective alternative to total foundation replacement
A transferable limited lifetime warranty
Our wall anchors also integrate effortlessly with other solutions like water management systems.
Why Choose Our Wall Anchor Solution? 
Ohio Basement Systems offers customization, annual maintenance plans, financing options, and a lifetime transferable warranty. We also provide additional services like drainage improvements to support foundation repair. Contact us today for a free inspection.
Trust Ohio Basement Systems for Your Wall Anchor Needs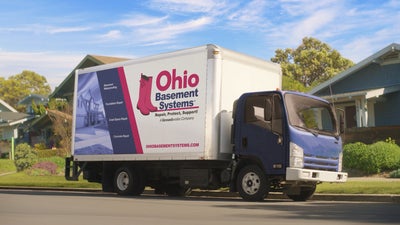 For lasting protection against basement and foundation issues, rely on the wall anchor system from Ohio Basement Systems. Our locally manufactured wall anchors ensure your home's foundation remains secure for a lifetime.
Schedule a free inspection and estimate to learn how wall anchors can stabilize your compromised basement walls. Reinforce your home today with Ohio Basement Systems. 
FAQs
The installation cost varies, depending on factors like the extent of wall damage and how many anchors are required. However, wall anchors are usually more cost-effective than a full foundation or basement wall replacement. Ohio Basement Systems offers free inspections, financing options, and transparent pricing. Contact us to learn more.
The installation time varies, depending on factors like wall damage and the number of wall anchors required. However, the process generally takes a day or two. Contact Ohio Basement Systems for a free assessment and accurate project timeline.
Minimal maintenance is required. Periodic tightening by our technicians can improve their effectiveness and potentially straighten walls over time. Contact us to learn more and take advantage of our service and maintenance programs.
Publish Date:
Last Modified Date:
Our Locations
Mansfield
1 Marion Ave, Suite 309
Mansfield, OH 44903
(567) 275-8588
Twinsburg
7950 Bavaria Rd.
Twinsburg, OH 44087
(330) 235-1229
Westlake
159 Crocker Park Blvd, 4th floor
Westlake, OH 44145
(330) 235-1229
Willowick
35475 Vine St, Suite 216,
Willowick, OH 44095
(440) 332-4339
Youngstown
8531 Market St.
Youngstown, OH 44512
(330) 400-3783